In our house, our evening routine starts at 5:15 PM when we walk in the door. We get home, change, and eat dinner (Monday-Thursday my in-laws cook since they are already at our house watching the kids).
At 6 PM, my in-laws leave, and if the kids need baths, it's bath time for Mav. He gets a quick bath and then jammies, lotion, and a few minutes of playtime. Once he's out, Harlyn gets in the bath.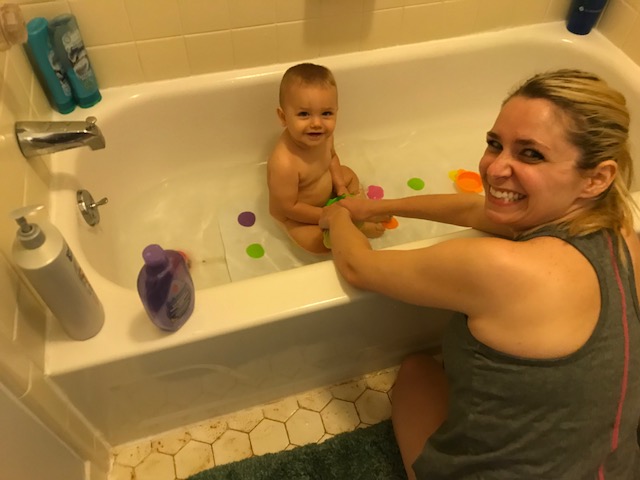 By 6:30 (or 6:45 if we're behind!), we're offering Mav his last cup of milk, and then we brush his teeth and put him to bed. We hold him for a few minutes in his bedroom and then lay him down with his pacifier. He falls asleep within 10 minutes, and we don't hear from him for 12-13 hours. (Let's all throw up some praise hands for that, shall we!?!) Mav seems to go through phases where he likes one parent to put him down more than the other, so we switch off on his bedtime duties. Whoever is not getting Mav ready for bed helps Harlyn finish her bath during this time.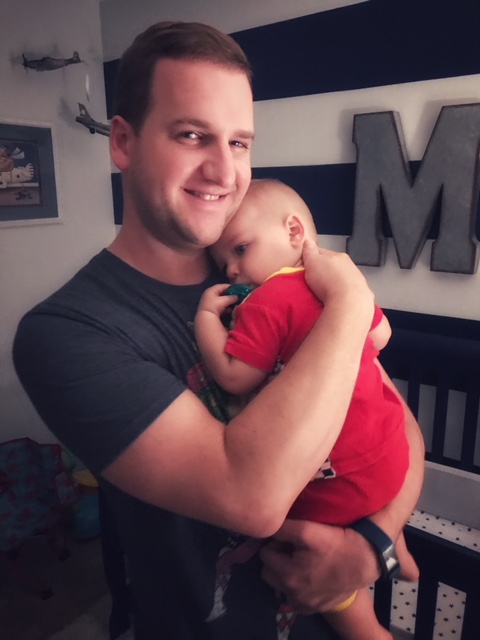 On non-bath nights, or when my MIL has already done baths by the time we get home, we use the 6-7 PM hour for PLAY TIME!! When it's not super hot, we can spend some time outside. When it is too hot to play outside, we will play with both kids in the living room—tag, catch, trucks, or the play kitchen are the go-tos. The cool part about non-bath nights is that it gives us a bit of real QT with both kids, and then once Mav goes to bed, we get extra special time with just Harlyn. It varies on what we do with Harlyn from 6:30-7. Most often, she'll request Barbies (with me or sometimes with both of us), or occasionally she'll get to run up to Food Lion with Daddy. Sometimes she'll want time outside in her Frozen Jeep. I know she cherishes this time, so I try my hardest to remember that she needs me, even when the house needs to be picked up!! And also, it is pretty fun to take 20-30 minutes and do nothing except plan Barbie and Skipper's next adventure with my favorite 4 year old. ☺
At 7 PM (or 7:15), Harlyn is getting jammies on, going potty, brushing teeth and "watching videos" –which is her using her Kindle to watch Caillou. (SIDE NOTE: WHO ELSE HATES CAILLOU?? WHY, OH WHY, IS HE SO WHINY?) Brandon and I use the 30 minutes that Harlyn watches videos to clean the house, start any lingering laundry, etc. We can get the house pretty decent in one Caillou episode.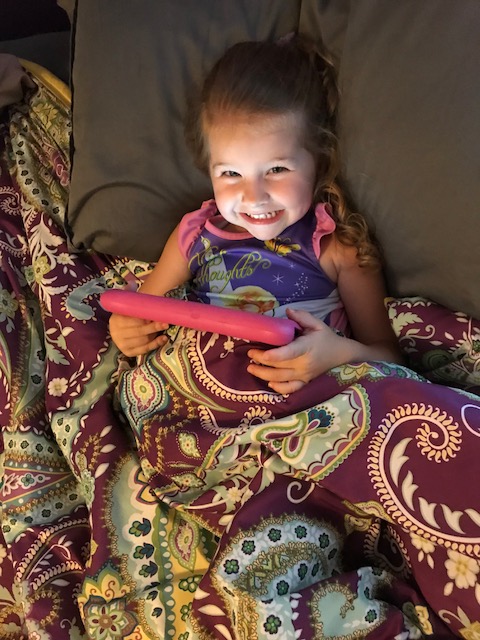 Then at about 7:45, Brandon, Harlyn and I go to Harlyn's room and read 2 books, one Bible story, and do her Veggie Tales Devotional.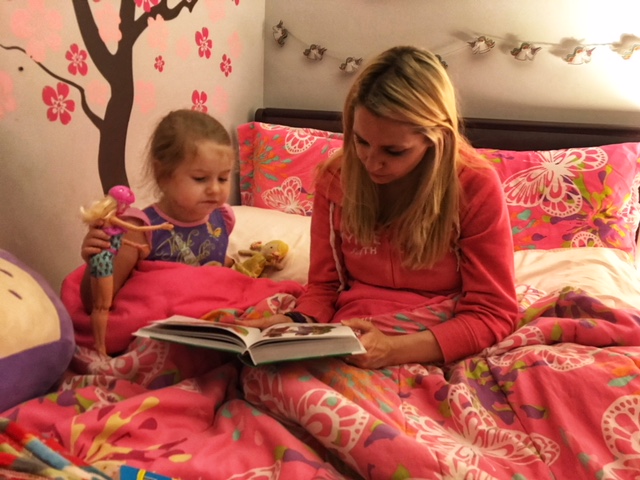 Around 8 PM (sometimes more like 8:15), Brandon leaves Harlyn's room and I stay for a few minutes of "talking" or "asking questions"—she picks the topics usually! After 5-10 minutes, she announces she's ready to go get Daddy, so we BOTH must get up and go get Daddy from the living room. Then I say my final goodnight to her (well, in theory) and they go hang out for a few minutes, pick out a book, and stuffed animal for her to take to bed, and get chapstick on. On the nights she fights us, this is when she'll say she needs to go potty, or has an itchy mosquito bite, etc., but thankfully this is not every night.
Generally speaking, our childcare duties end around 8:30 PM, and we plop down to watch TV together. Or during football/basketball season, B watches the game and I read! And although we love and adore our kids, we definitely look forward to bedtime. It's nice to unwind with a semi-clean house and no kids to chase!!
The other thing I wanted to mention is that I also have been running in the evenings 2-3 times a week, which has altered this just a bit. I don't run on nights when we are doing baths. So on the nights I do run, we usually get Mav down and then once Brandon and Harlyn are settled into whatever they are going to play, I hit the road. On short runs, this is working wonderfully, because I get back and they are just switching gears from play to potty/teeth. The longer runs we are still trying to figure out. If Mav is really tired and goes to bed at 6:15, then I can run for an hour without it affecting much. But when he's not down til 6:30 or so, I don't really have an hour or else it'll push Harlyn's routines back too much. So for now, I've been trying to do the best I can with the time I have, and then do 6+ mile runs on Saturday mornings.
What does your evening look like? And if you have an tips on how to fit in running/exercise while raising young kids, I am all ears!!