Well hey there! It feels like I've been gone a hundred years! We got back yesterday from our vacation and spent the afternoon trying to get life back in order. You know how it is…even though you left the house clean, the second you unpack the car, your house is a disaster again with all the stuff waiting to be put away.
Originally I planned to continue to blog and do social media while we were at the beach, but the Wifi was terrible there, and using our regular cell service didn't help things either. We were in North Carolina still, so I can't figure out why we didn't have good Internet. But maybe God wanted us to spend a little more time together and a little less time on our phones?!?
So, we left Wednesday around lunch time and headed to Carolina Beach. We rented a condo that was right on the water, which was the best decision ever with two young kids. Last year, we stayed about a block or so from the beach, which doesn't sound far except we had a thousand things to schlep back and forth–and I don't know about you, but our kids need frequent breaks from the sand and sun. Last year, we also had my in-laws with us, so often one of them would just take Maverick back to the beach house when he needed rest. Which brings us to a neat fact about this year: this was our first family vacation! We have gone to Carolina Beach, Myrtle Beach, etc before, but this was the first time we've done it as a nuclear family. We had so much fun! By the time we arrived Wednesday, we had to quickly unpack so we could get to the water before it was dinner time. We got to spend about an hour on the beach, and both kids were excited to be there.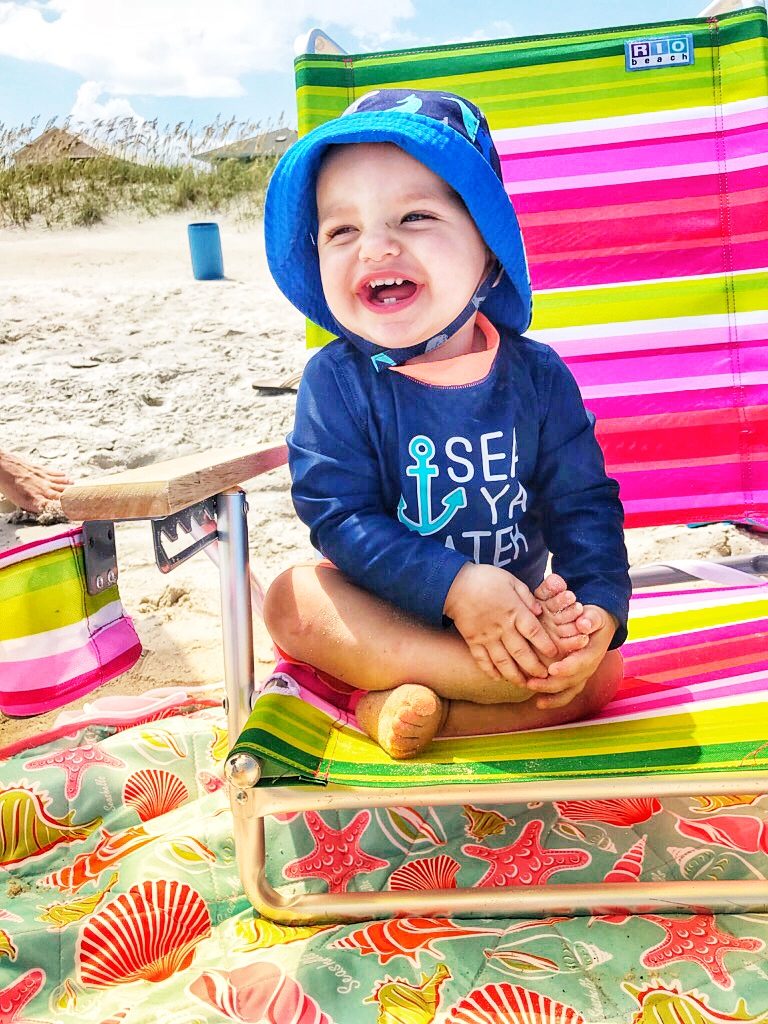 My sweet little beach bum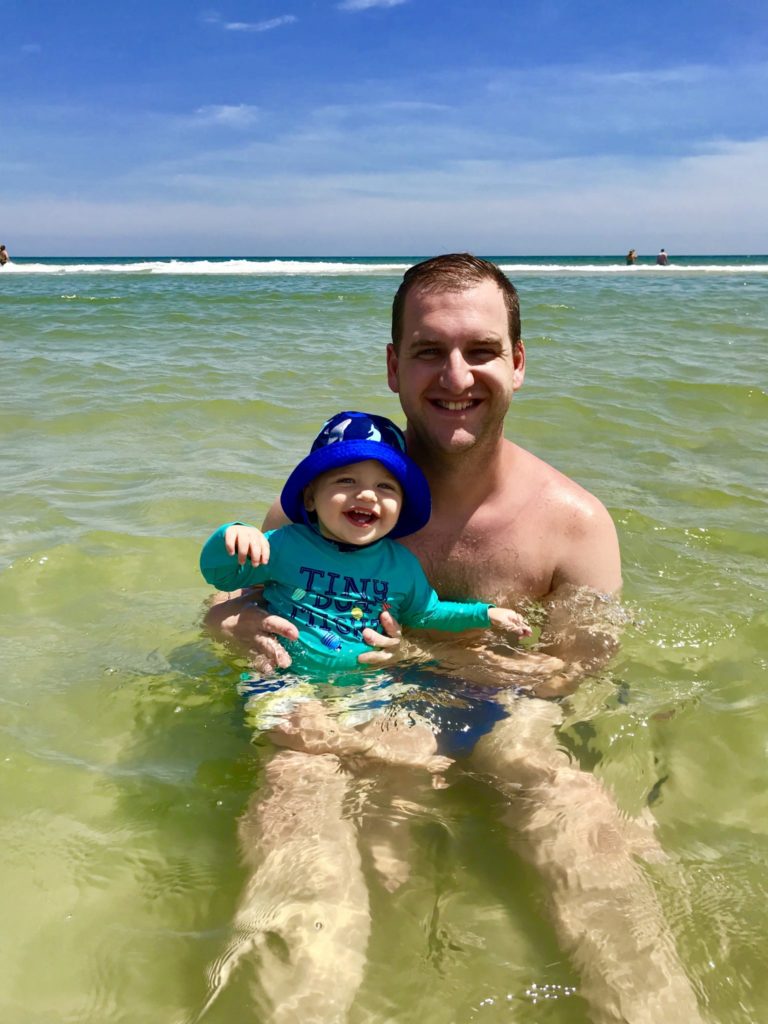 World's cutest boys
On Thursday, Harlyn and I went to the beach in the morning to collect shells.  When we got back, Maverick was getting up from his nap, so we all headed down to the ocean together. We spent the whole day just going back and forth as needed! On Friday morning, we went on a family walk, and Harlyn got to collect even more shells. We played on the beach during the day, and then around dinner time we headed to the boardwalk. Have you ever been to the Carolina Beach boardwalk? Online makes you think it's gonna be so great. We actually went last year and thought it was lame, but then figured we missed something since the internet seems to love it, so we went back this year. It still was not the best, although this year they did have the Ferris wheel. Harlyn thought she wanted to go on the Ferris wheel, but once she saw it, she decided to skip it. We did all go on the carousel (Mav was rather unsure about it!!), and Harlyn won a blow up princess toy on the "pick 3 ducks/everyone's a winner" type games. 😉 She was thrilled! We got ice cream too, which made both of my babies quite happy. Then it was time to head to the condo so we could get our little man to bed!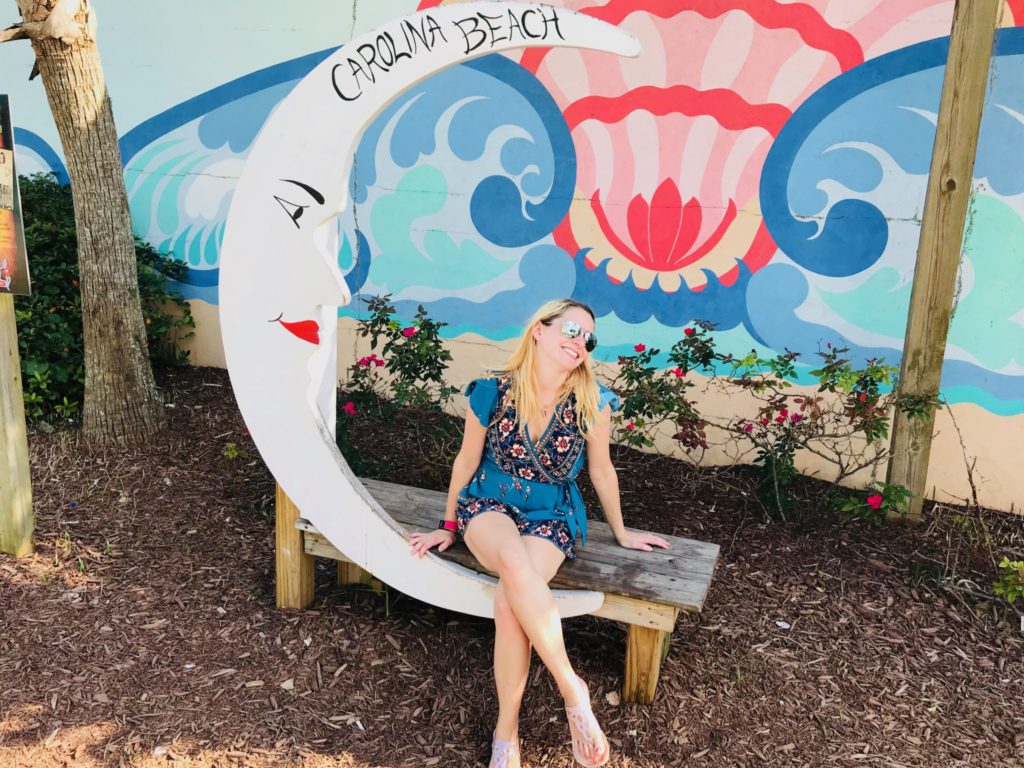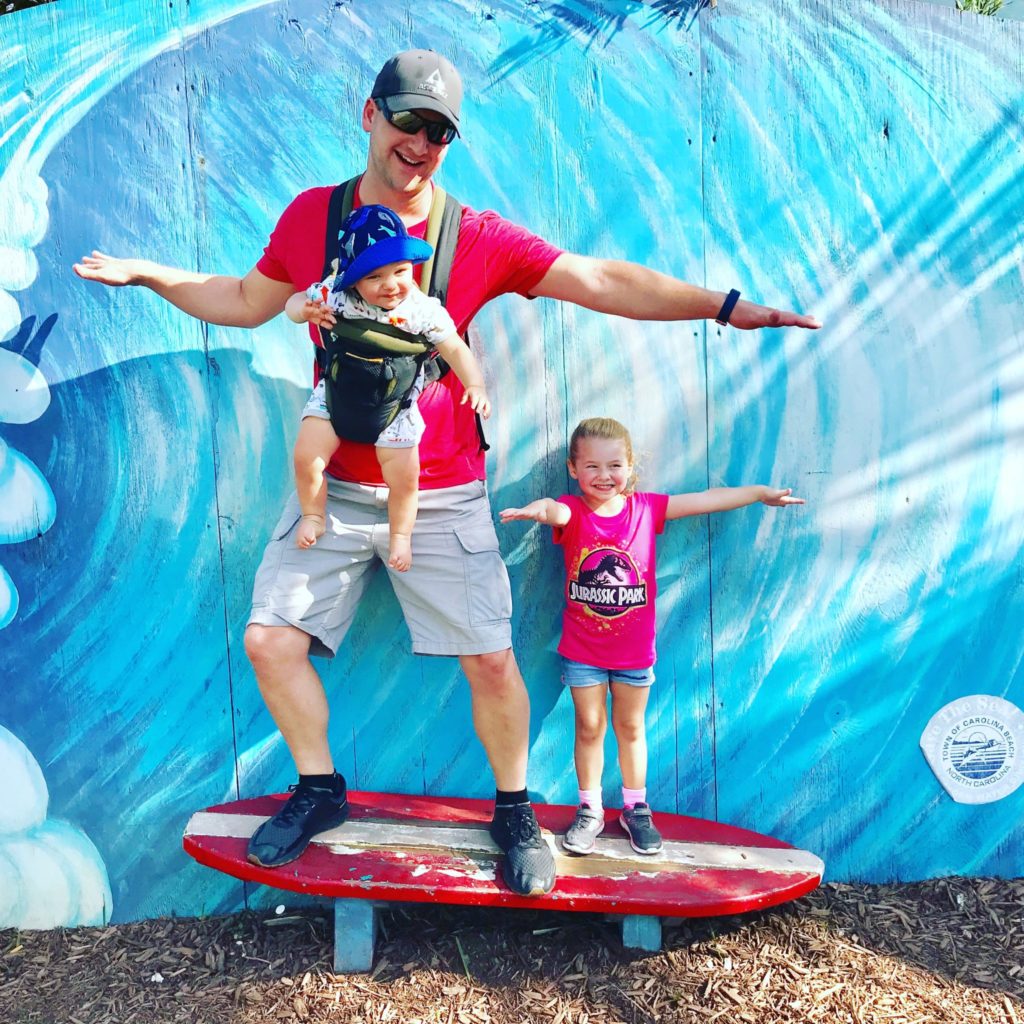 Boardwalk Photo Ops
Saturday morning we got up and got ready for the aquarium at Fort Fisher. Both kids LOVED it. We actually took them last year too, but Mav was obviously teeny tiny, and Harlyn didn't mind the return trip! They say you need about 2 hours to get through it, but we did not find that to be true either year. Even with gift shop shopping and time on the playground there, we were out in under two hours. Which is actually great for us because our kids have a time limit for adventure. After that, we went back to the condo and spent the rest of the day shuffling to and from the beach!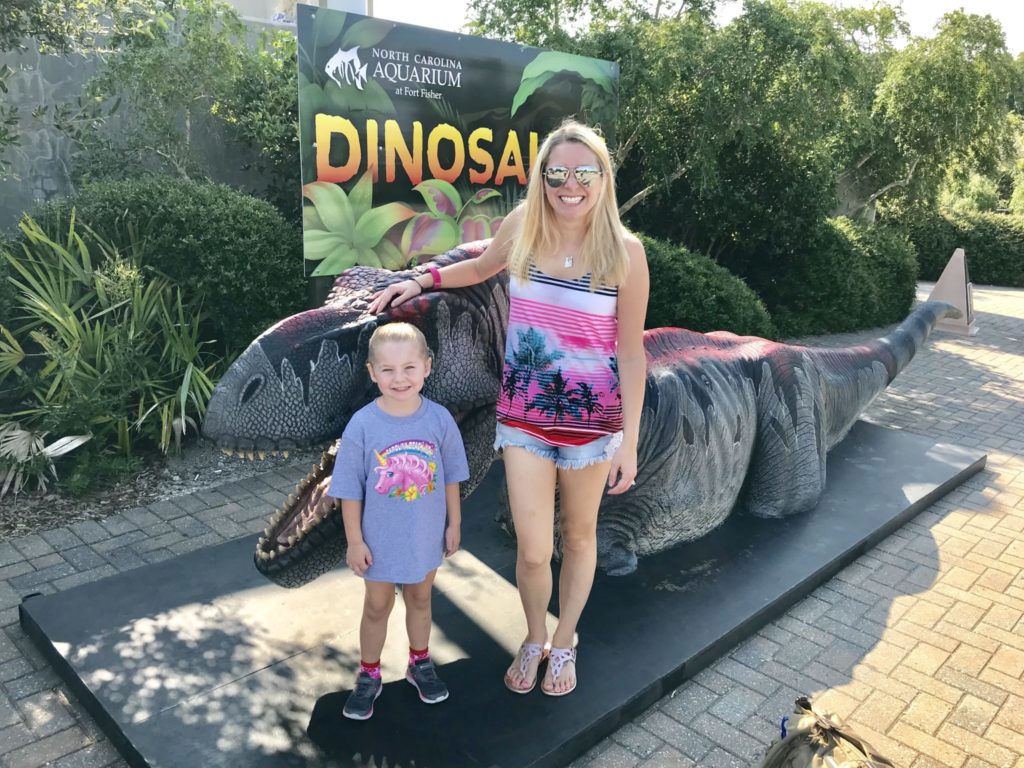 The aquarium had a cool dinosaur exhibit this year. Harlyn was convinced the animatronic dinos were real 😉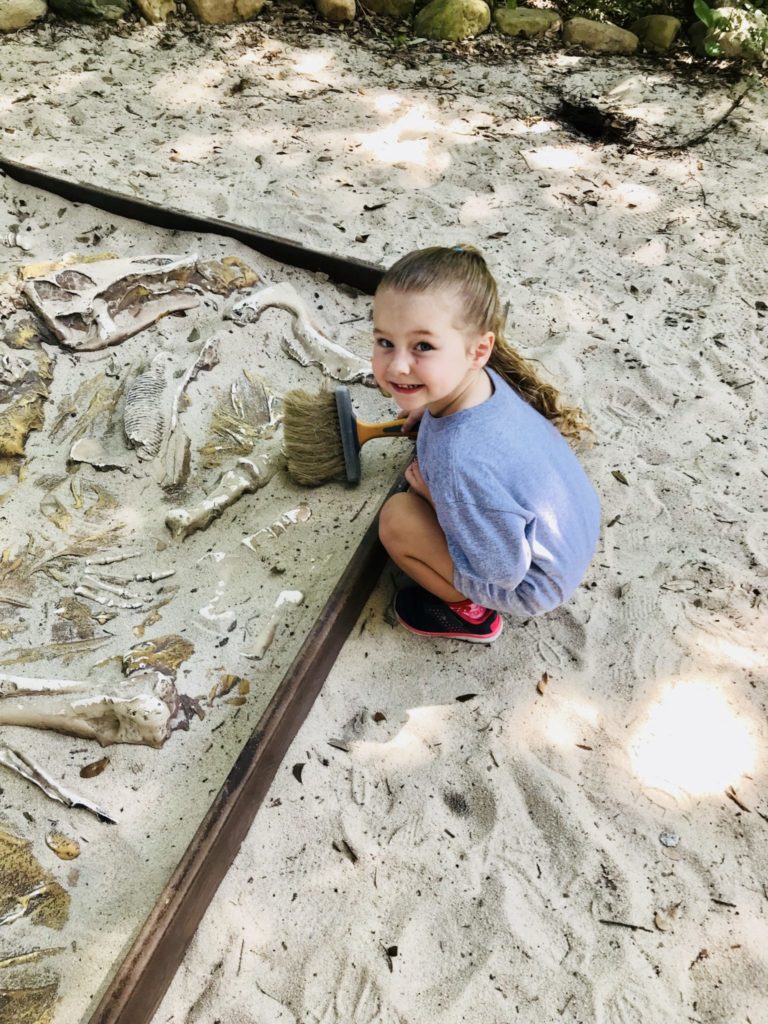 Fossils!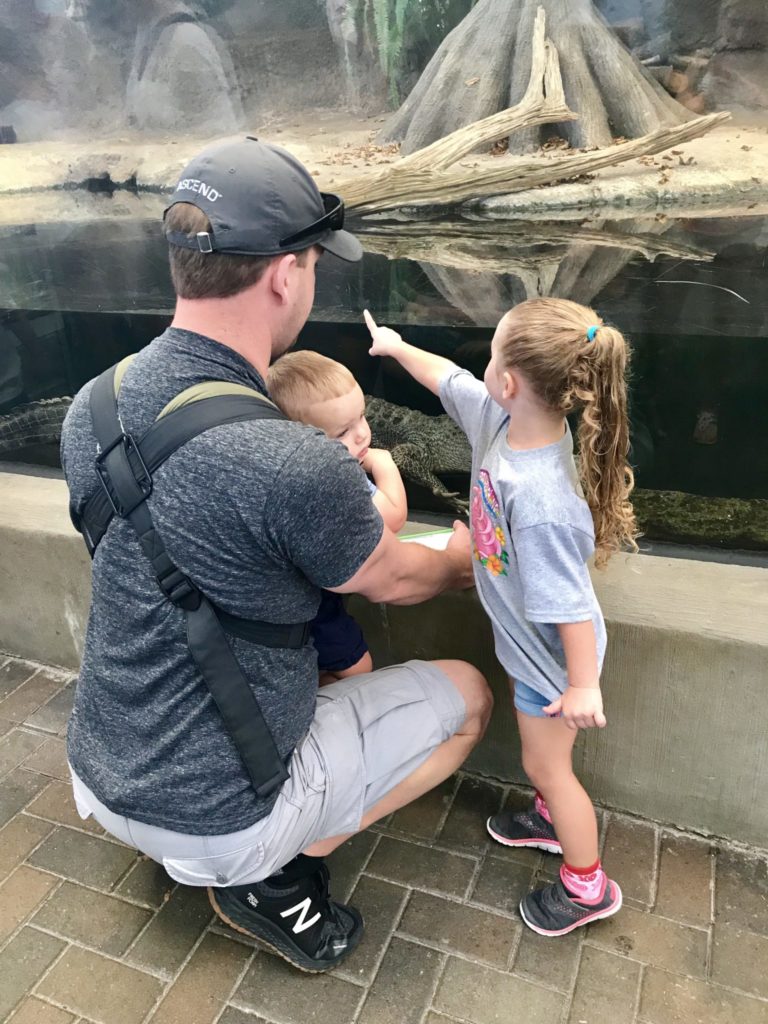 Checking out the alligators
Sunday we woke up to rainy skies. My dad and his wife were planning to come to see us, so despite the thunderstorms, they came over from Wrightsville Beach, where they had been for the weekend. The weather didn't seem to be clearing, so they ended up leaving pretty quickly since they had to get back to Raleigh. If only they had come an hour later than they did…because by lunch time, the skies had cleared and it was beautiful! We decided to try to skip Mav's afternoon nap and just go to the beach so we'd be able to get some QT down there. It worked—he survived it with minimal fussing and we had the best afternoon! After dinner, we headed back to the beach to say goodbye to the ocean and take a little walk. Then it was time for Maverick to get to bed (of course!) and we started packing a little.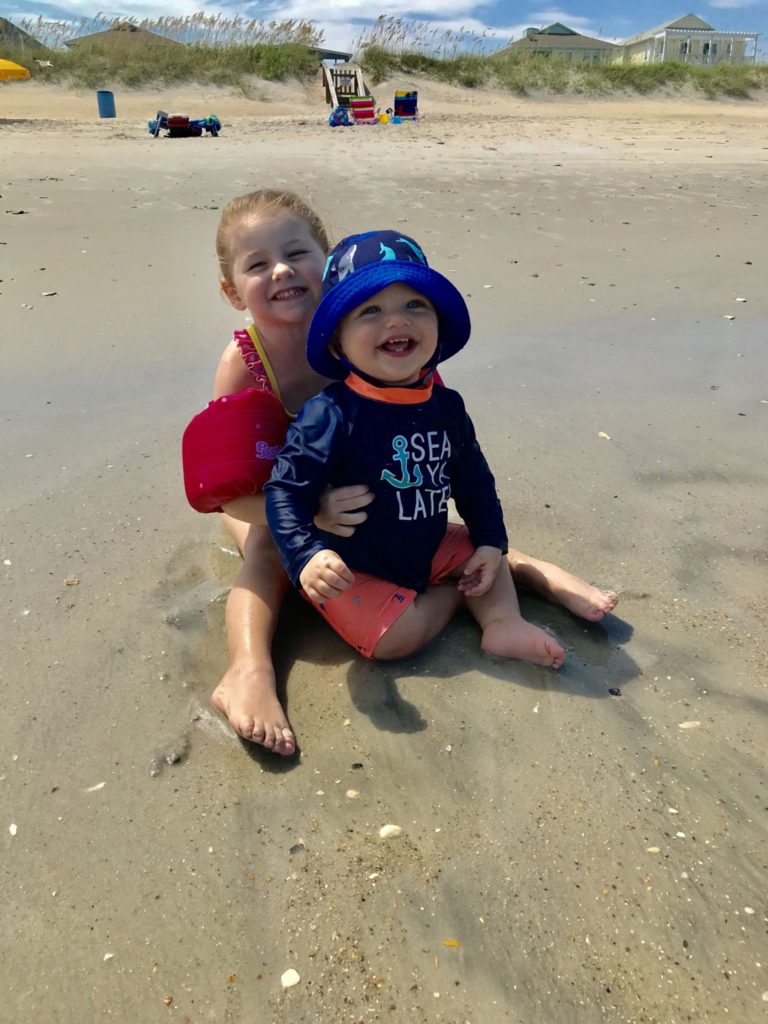 I love them so much!!!!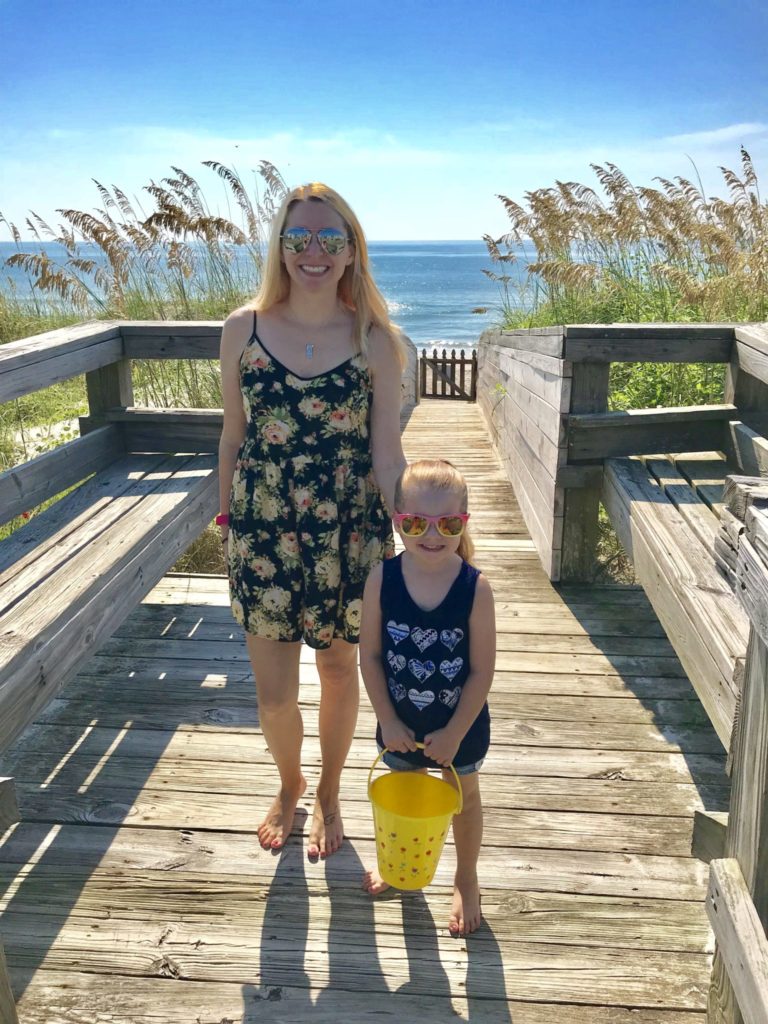 Seashell girls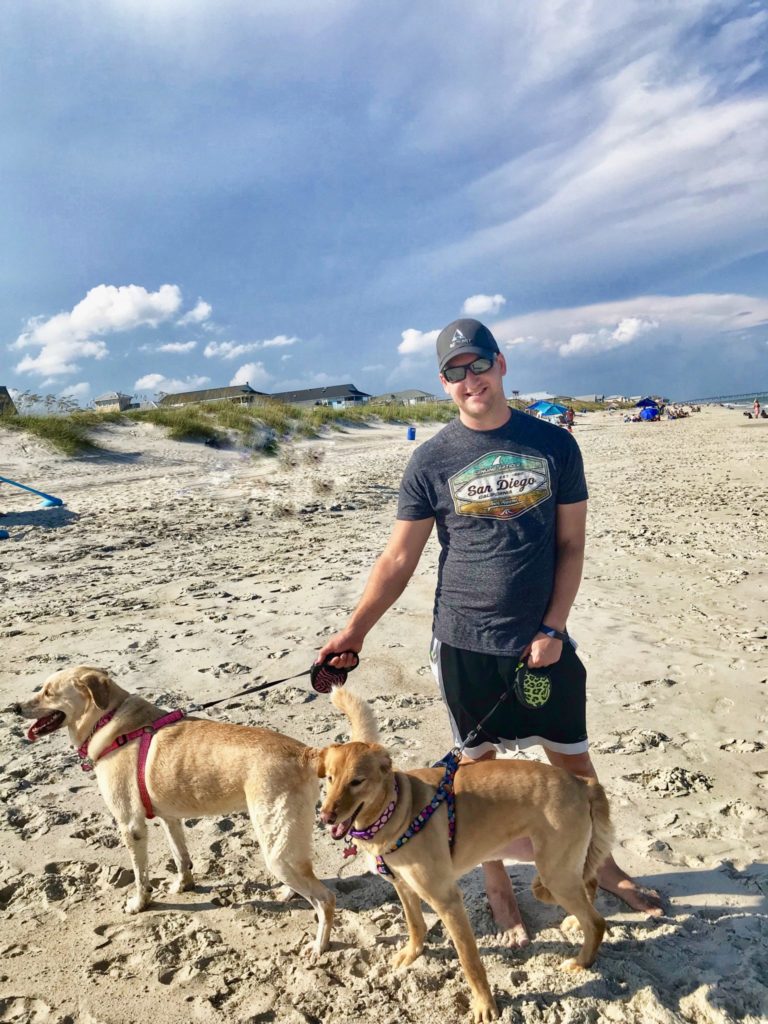 Bella and Maya's first time at the beach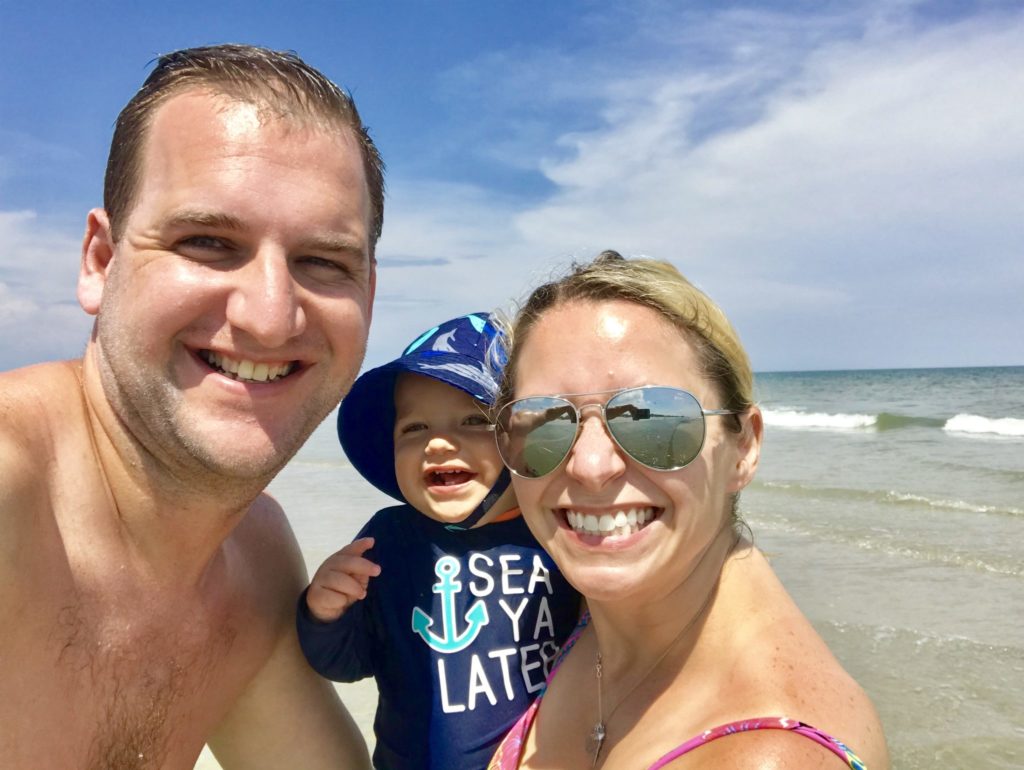 🙂
Then yesterday morning we packed up and came home.  Harlyn was so sad to leave…poor little thing. I understand where she's coming from though…it is tough when something fun ends! We told her we'd try to do a beach trip every summer (because we all love it so much!) and that seemed to help her a bit.
Overall, the kids did wonderfully. Sure, there were times where I wished we could last longer on the beach, or more easily skip naps/delay bedtimes, but we all had a great time. Harlyn still whined, Maverick still cried, but being at the beach made it more tolerable and made it happen less. BOTH Harlyn and Mav loved the beach…Harlyn was swimming out to the sandbar in her puddle jumper, Maverick was crawling from our beach blanket to the water as fast as he could, wishing we'd just let him head on out there by himself. ☺
Our little water babies just can't wait for next year!
Okay,  tell me…what NC (or nearby) beaches are your faves? Where should we go next summer? What can't-miss kid activities are there in your favorite beach town?