I'm back!! It feels like I haven't blogged in so long! I'm super excited to share my Punta Cana trip with you today. We had such a great time!
First things first: Our real anniversary is Dec 19, but can you imagine trying to take an anniversary trip in December? Practically impossible. So we decided to go in November instead. We're celebrating 10 years, and literally everyone we told (because "why are you here??" Is a very common Q while staying at an all-inclusive in Punta Cana) could not believe that we were old enough to have been married 10 years. Which is funny, because when we're at home, it's not like anyone is doing a double-take. So I kind of just figured I was finally past my whole looking 20 thing. I mean, I have a total mom bod, far too many grays, etc., so…yeah. I didn't think anyone saw me as a 20-something anymore. But on to the important stuff!!
I'm going to share days 1-3 in this post, and I'll be back next week with days 4-6.
So we left home last Wednesday in the early morning and went from Raleigh to Miami. From there, it was just a two hour flight into Punta Cana. We had arranged transport ahead of time, so we were able to get right over to the resort in 30 minutes. We got there late afternoon (maybe about 3? I can't remember!) and wanted to grab some food and check everything out. After our late lunch at the beachside buffet, we checked out the beach and the pool. Since we were going to lose daylight soon, we took it easy and ended up just checking out the property a bit, making all our dinner reservations for nights 2-6, and FaceTiming with Harlyn and Maverick from the pool. That night, we had to eat at the buffet because you can't make a reservation for the first night, and you can't eat at a non-buffet restaurant without dinner reservation. After dinner, they had a really cool circus show. If you follow me on Insta, you may have seen my Stories…those performers were amazing!! I had ZERO expectation for the show, and I was thoroughly surprised by it. We finally collapsed into bed after a very successful first day.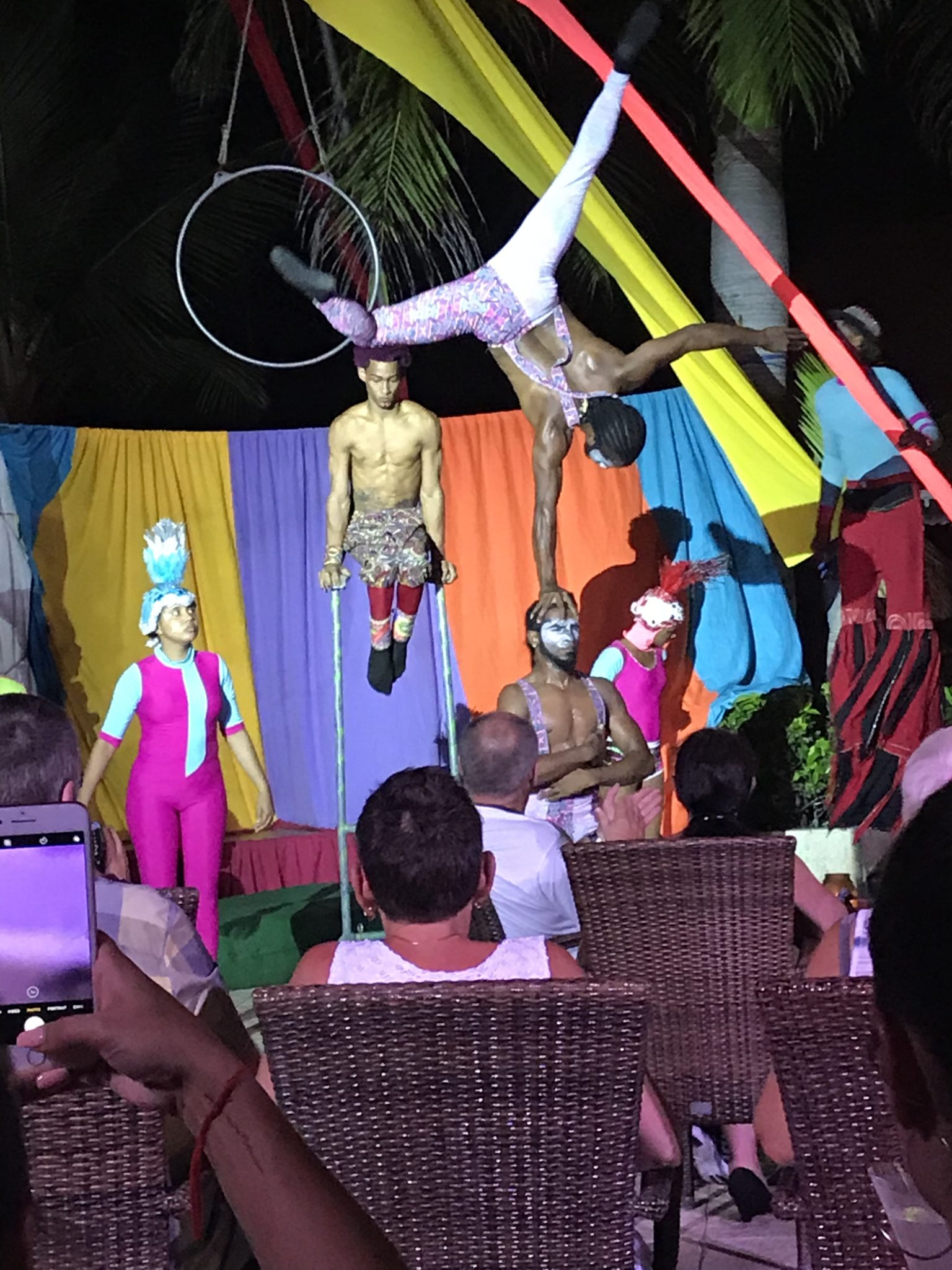 Thursday morning we slept in for the first time in 100 years. It was glorious. I seriously think we slept til 8 AM! I mean…we rarely sleep past 6. It. Was. Everything. We got up and got ready to grab our first breakfast–which was great. It was a buffet, but they had a made-to-order omelet counter, so that was all I needed! My vacation breakfast was set in stone from that point on: an omelet, toast, French toast, and OJ. YUM. Then it was time for the beach!!! We watched beach volleyball, talked to a guy from Ohio, and straight chilled. We may have started a daily 10 AM Pina Colada routine at this point too. We also decided we were going to go parasailing, so after a late lunch, we laid out til it was time. We got on the boat with another pair and they went first. Then it was our turn!! We got all hooked up, they let us start going, and then…..they kept looking back at us. And then the pulled us in and had to rehook me!!!! I was like, welllll, now I have very limited faith in this whole thing. LOL! But honestly it seemed that it was just a weight distribution thing, not so much like a "I was almost dropped into water" deal. So we finally got way up in the sky, and it was awesome. It was quiet and peaceful and kind of freaky. We really enjoyed it! I had gone before when I was young, but it was on a bench. From what I can recall, the bench was not scary, but the harness with your legs just free/dangling is just a bit scary! After parasailing, it was time to head up to the pool for a little bit and then get ready for our first restaurant dinner. It was at a Japanese restaurant and I had some shrimp and octopus dish, but I mainly ate the shrimp out of it! After dinner, we went back to our room to relax…and it was so great to lay around and watch TV that we never found the motivation to leave the room again. Ha! Oh well, what is vacation for if not to sleep as much as possible!?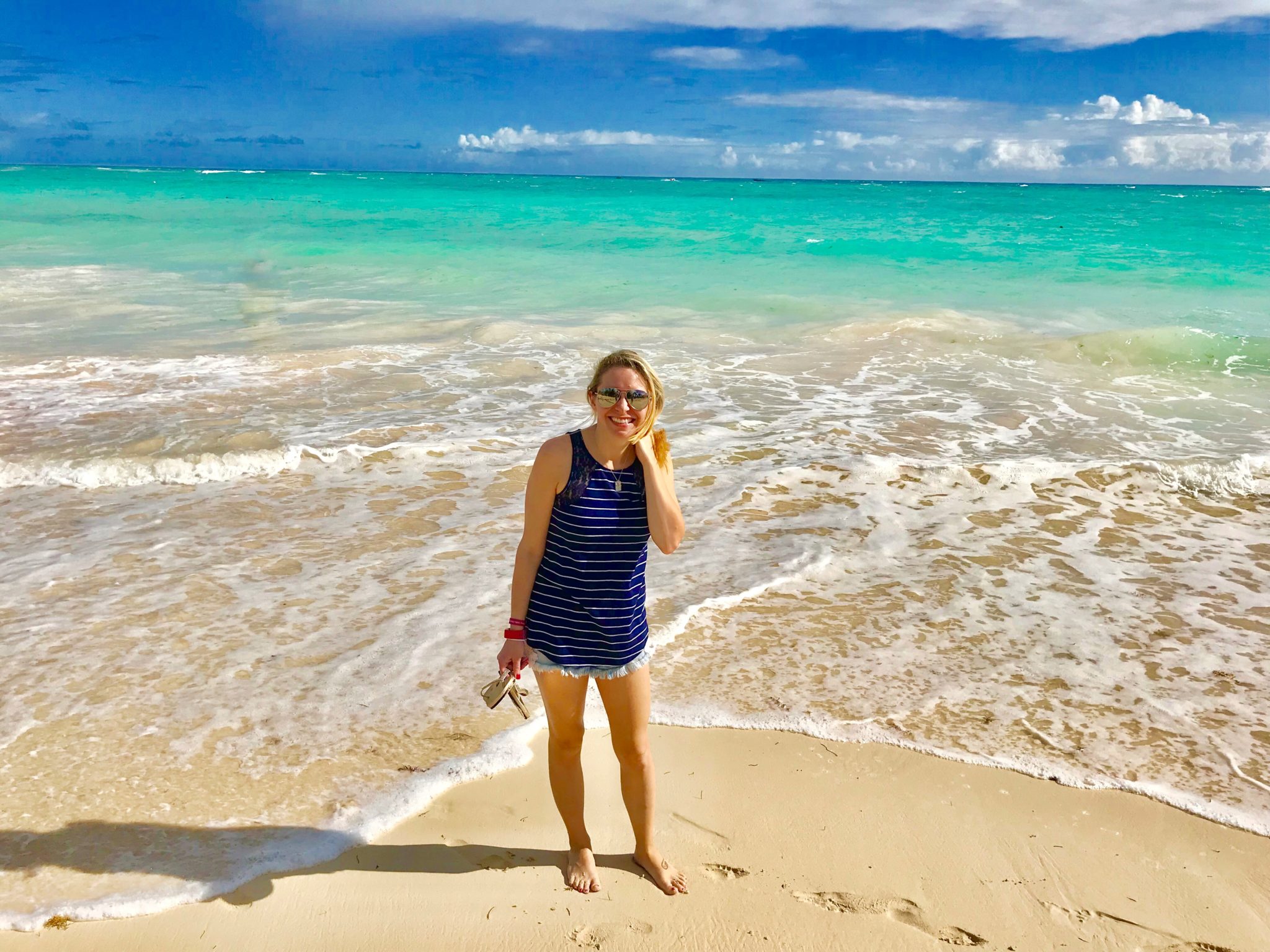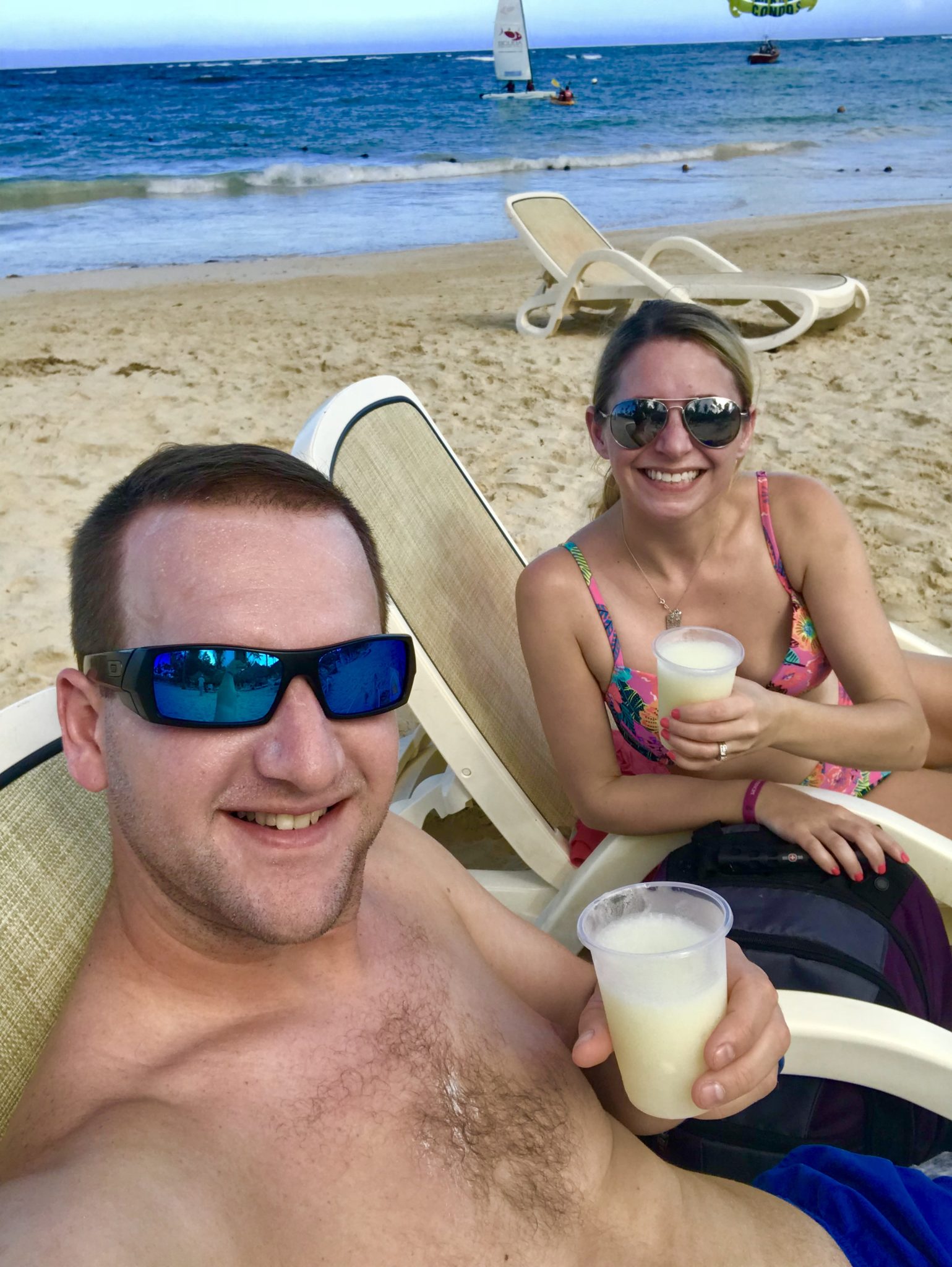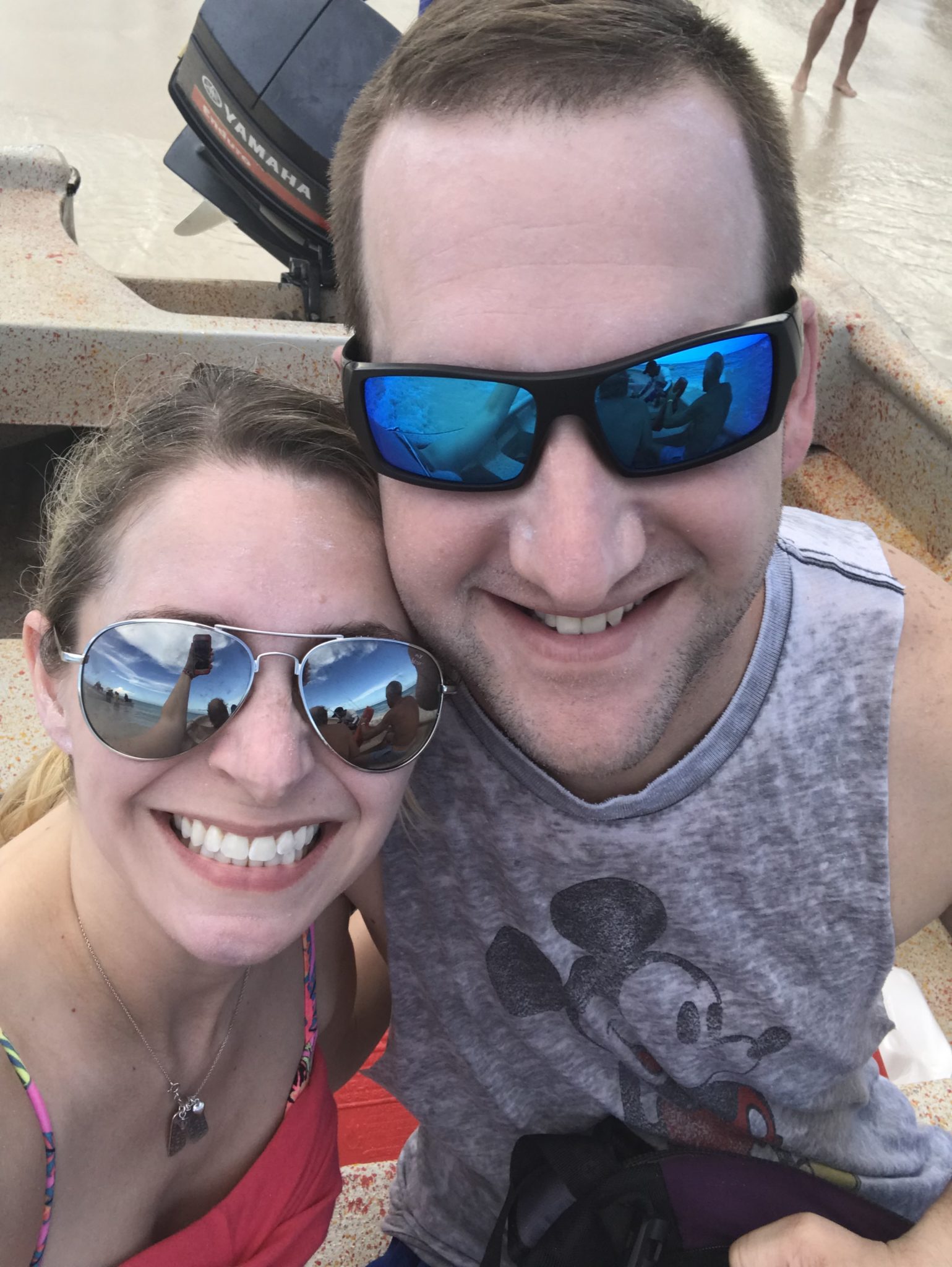 Friday morning, we got up, lathered on sunscreen and headed to the beach to secure our spots. Then we went to breakfast.  Then it was time for a nice walk on the beach! We relaxed, I read, Brandon played beach volleyball, we drank Pina Coladas. We opted for a later lunch at the beach buffet and returned to our chairs to sun bathe and have a couple more drinks. Later we went up to the pool to end our day. Our dinner reservation wasn't til 8:15, so we had plenty of time to get ready, talk to the kids on FaceTime, and relax before we headed over. This night ended up being our favorite dinner. The food was the best of the whole trip, and it was just a super fun experience. We had Japanese again (funnily enough, the only two we could get reservations for the first two nights were Japanese), but this time it was the one where they cook in front of you and you're with a group of people you don't know. This also happened to be the first time since we'd gotten there where everyone spoke English. We all were from either the US or Canada, which hadn't been the case with those we'd encountered before that. We joked with the people around us because it was such a marvel that we all happened to speak English as our first (well, we're American, so…ONLY) language. (And that is supposed to be a joke, people, so if you speak two languages don't send me hate mail. I'm only kidding around here.) We really loved that dinner! After that, we headed back to our hotel lobby to see what they had going on. It was Princess night, so I took a quick video to send to Harlyn and we called it a night!
Also, a side note: I can't believe how late they started kid events while we were there. They had something geared towards kids at 8 PM, and even 9 PM, every night. My kids wouldn't have been able to even keep their eyes open for something starting at 9! I just found it crazy how many kids could hang. Anyway. I digress.
I am gonna stop here for now, but check in next week to see pics from the second half of our trip!
Where's your favorite vacation spot? Do you like all-inclusive resorts? Have you ever been to Punta Cana? Let me know!