I'm back today with more pictures of our trip! If you missed my post on days 1-3, click HERE!
Since our whole goal on this trip was to just relax and enjoy a few days of no responsibility, we spent as much time as possible on the beach. Saturday was no exception! B did get some beach volleyball in while I read, but for the most part, we didn't move except to go eat or grab a drink. Late afternoon, we headed to the pool before it was time to get ready for dinner. Saturday night's dinner was at the Italian restaurant right by us. I don't even remember what I ate, so I guess it wasn't that memorable, haha! After dinner, we FaceTimed the kids while it rained. Luckily, it stopped raining just in time for the BEACH PARTY!
The beach party ended up being pretty fun! There was a bar, music, and dancing. Brandon and I tried our best to salsa! I'm sure we looked ridiculous. Probably even more so when they handed out giant glow stick things and everyone started dancing with those. But we enjoyed the night…and that was our Saturday.
Sunday was Brandon's 34 birthday!!!! We had ourselves another day at the beach, of course! While Brandon was playing his daily 11 AM volleyball, I snuck up to Guest Services to tell them it was his birthday to see if they could decorate our room door (we had seen so many doors decorated with Happy Anniversary, Honeymoon, or Happy Birthday signs). When we got back to the room that evening to get cleaned up for dinner, the door was decorated and I totally surprised B!! Harlyn was able to sing Happy Birthday via FaceTime, and of course Mav did his best to babble along. I gave him the cards I'd brought along, and we had a dinner reservation at the Mexican restaurant that night. I had fajitas which were good, but the buffet appetizers were ahhhhmazing. Since we were already over by the souvenir shops, we did some after dinner shopping before heading back to our hotel. Although it wasn't a super eventful birthday, it was probably more exciting to be in Punta Cana than a regular boring work day at home…so we'll call his birthday a win!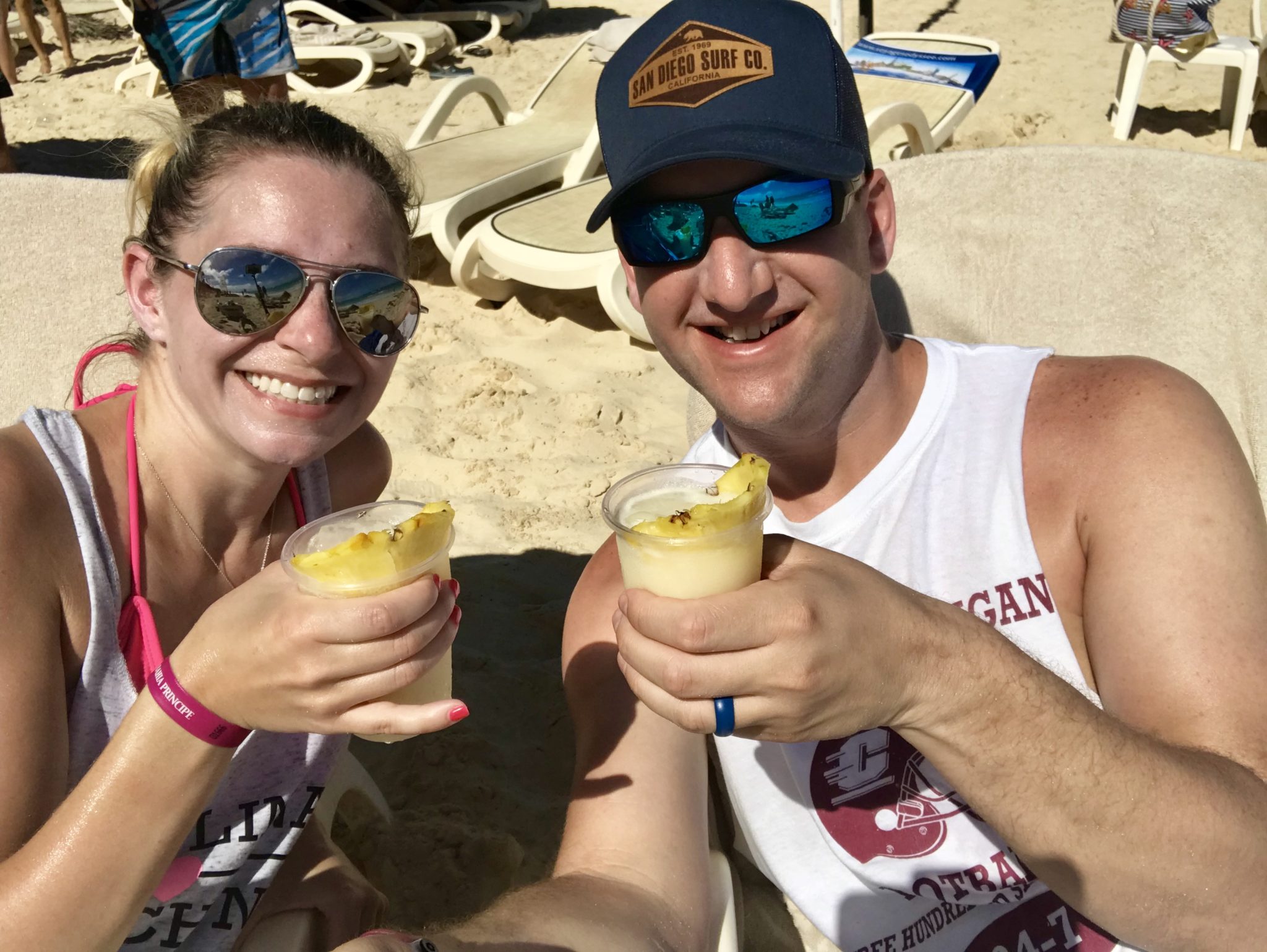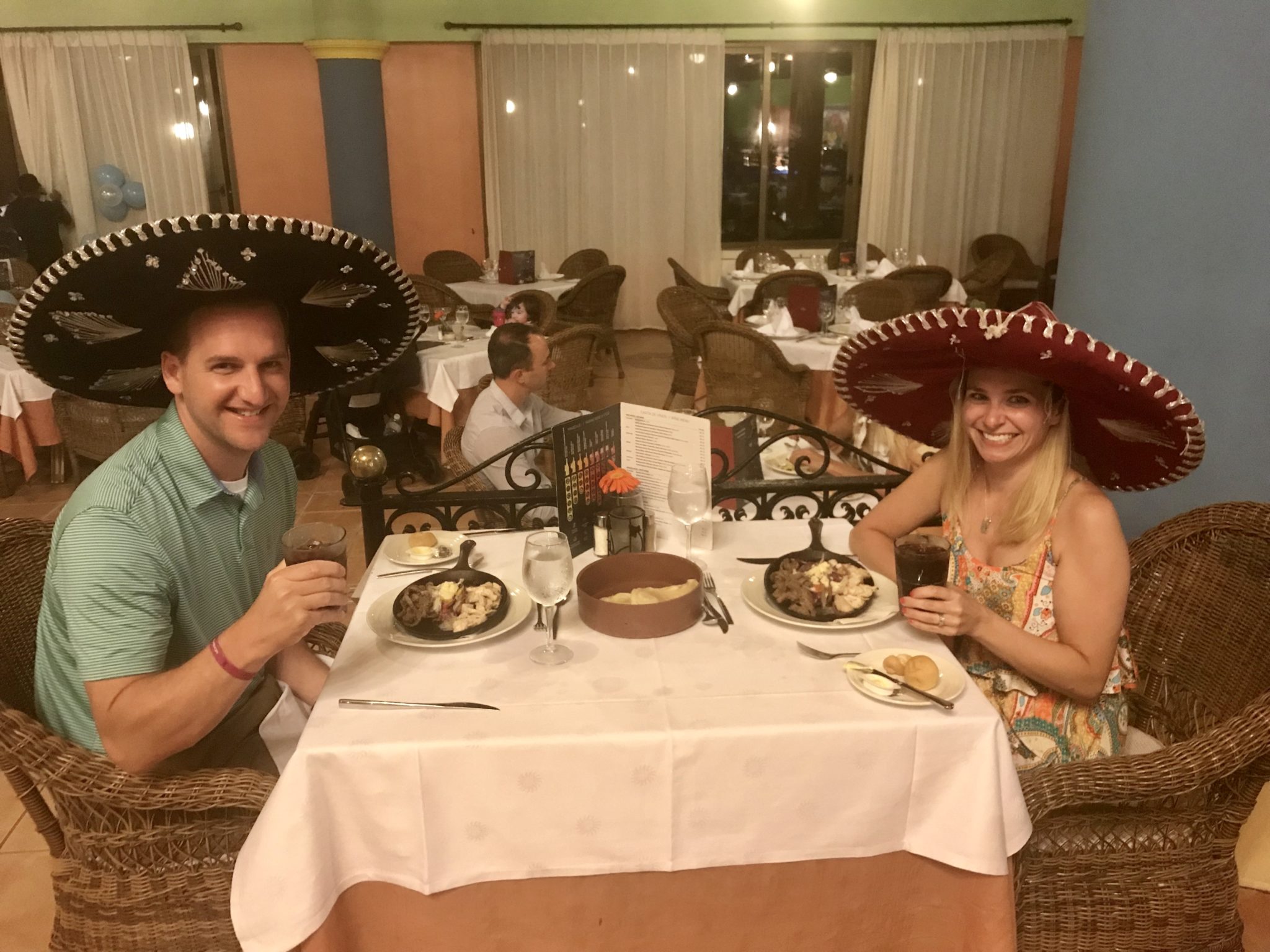 Monday was our last full day…and I was sick. Yep…Sunday night I was up all night feeling awful. And it didn't get better all day. I tried to just stay in the shade, read, and rest, but my stomach hated me all day. I was soooo hungry, but afraid to eat. Thankfully, by dinner time my stomach had settled. Because I was exhausted from not sleeping, we called it a night after our 8:30 dinner.
Tuesday was travel day! Luckily, I felt fine after a good night's rest. So we got up, headed to breakfast and then to the beach to find the bent palm tree everyone had been taking pics of. We had gone on walks a few times, but hadn't yet found it. Don't worry though—we located it!! Then it started raining. The funny thing about Punta Cana is that when it rains, it only rains for a few minutes and then it's all good again. So by the time we headed up, it had already stopped. We parked ourselves at the pool til it was time to pack and check out.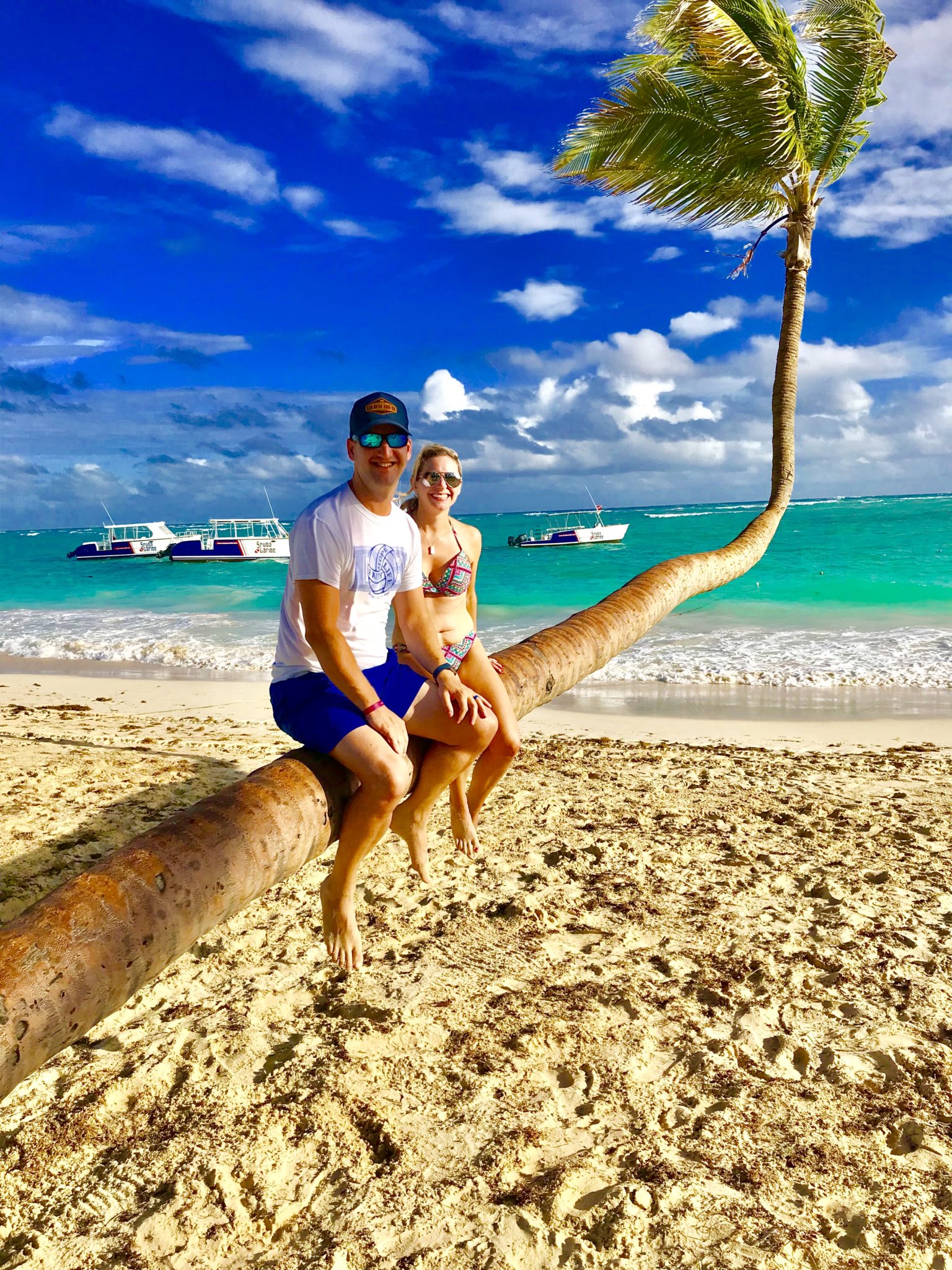 We got home around 10 PM last Tuesday, and although we had a truly wonderful trip, we were so ready to be home and see our babies.
Overall, we're big fans of the all-inclusive. It's really so much less stress when you don't need to think about how/when/where you'll eat. We also liked having the drinks included. Years ago, we went on a cruise and opted out of the drink plan, but that meant that we were always tallying up what we were spending on drinks. Much easier when it's already been paid for in the price of the trip!
Our resort was beautiful. It almost looked like they cut the lawn with scissors, it was so pristine. The rooms were pretty good. For some reason, our room had barely any outlets. There was not an outlet in the bathroom, so I couldn't do my hair in there. And I could only find one plug available in the room, so I had to use it for my hair straightener and my phone charger. Another weird thing…we only got washcloths two of the days. So they had them, but even when ours were dirty on the floor, they'd just take the dirty ones away and we wouldn't get new ones. Was there a laundry shortage?? I don't really get it. We tried to ask once, and they said they were in the laundry, but we never got them til a few days later. I liked breakfast more than lunch…but that might just be because I like breakfast food better. There were several different hotels on the property and the dinner restaurants were scattered, so they had someone available to drive you by golf cart to your dinner. That was nice, because I don't think we'd have had a clue how to get to our dinners!
We don't often sneak away for a vacation with just the two of us, and this was the perfect anniversary trip.
Would we go back? Yes!!
Let's talk travel! Are you planning any vacations? Where are you headed to next? Are you taking the kids?