Last week, I attended my first conference, which is no easy feat as an introvert.
I've talked before about being an introvert in the context of motherhood (you can check out that post HERE), but today we're going to talk about the fact that going to a conference when you're an introvert is tough.
Exhibit A: in the networking plaza, they had niche interest tables, and I happened to see that one table was labeled "Introverts." And I so wish I would have snapped a pic, because the table had ZERO people sitting at it….introverts don't go sit at tables to talk to people!! They hide out behind phone screens or computer screens! Anyway, when I saw that empty table, I died laughing.
The conference was Social Media Marketing World in San Diego. AND IT WAS AMAZING. Brandon has gone the past 2 years, and while I always come with him to San Diego, I'd never gone to the conference itself. I'd just used the time as a vacation. But now with the blog and the podcast, it was time for me to officially join him.
OKAY. So. Back to the post. Somehow, I made it through this conference and actually, I'm really proud of myself. I pushed past my discomfort to make sure I made the most of my time and money, and it was so, so worth it.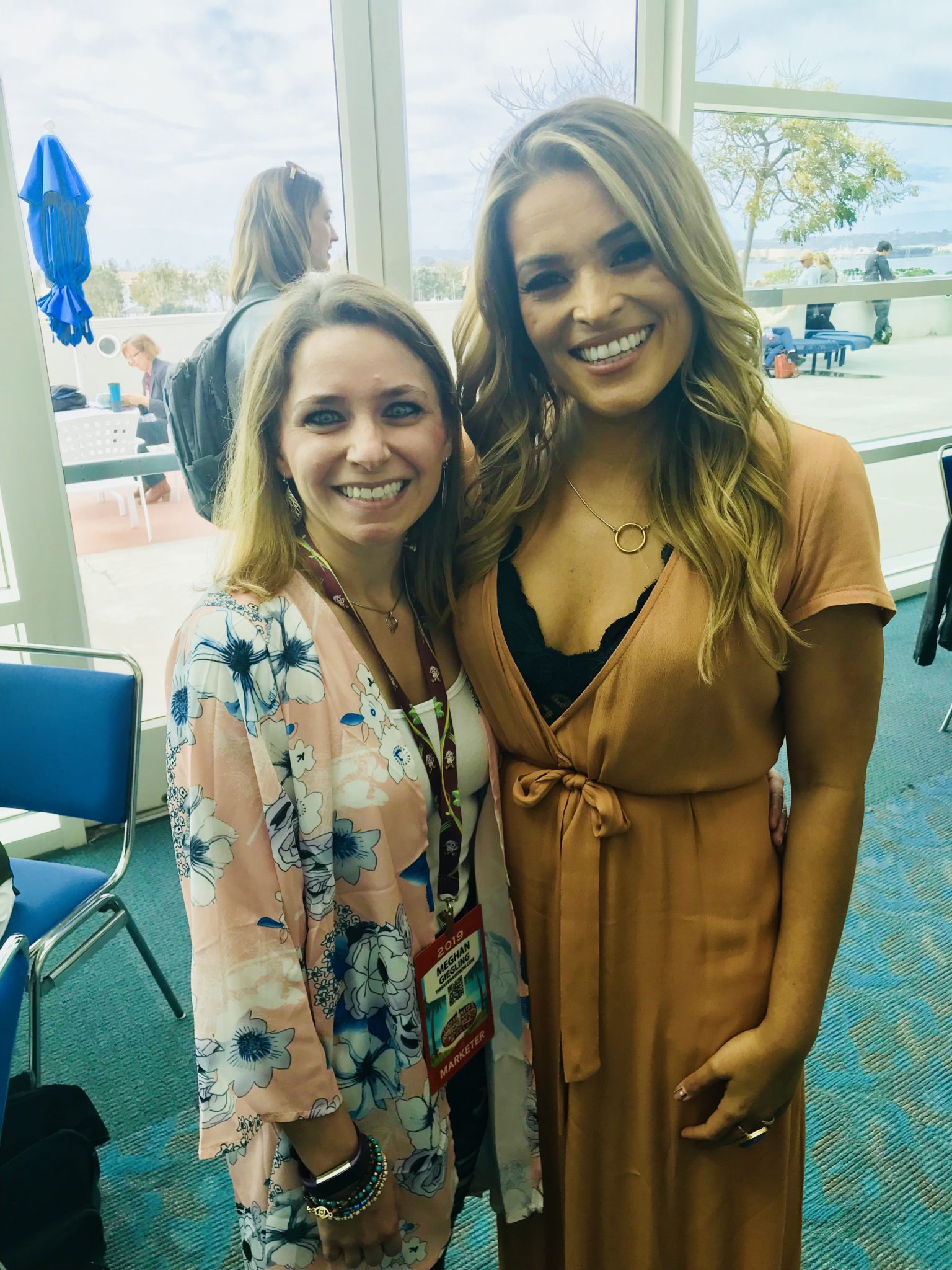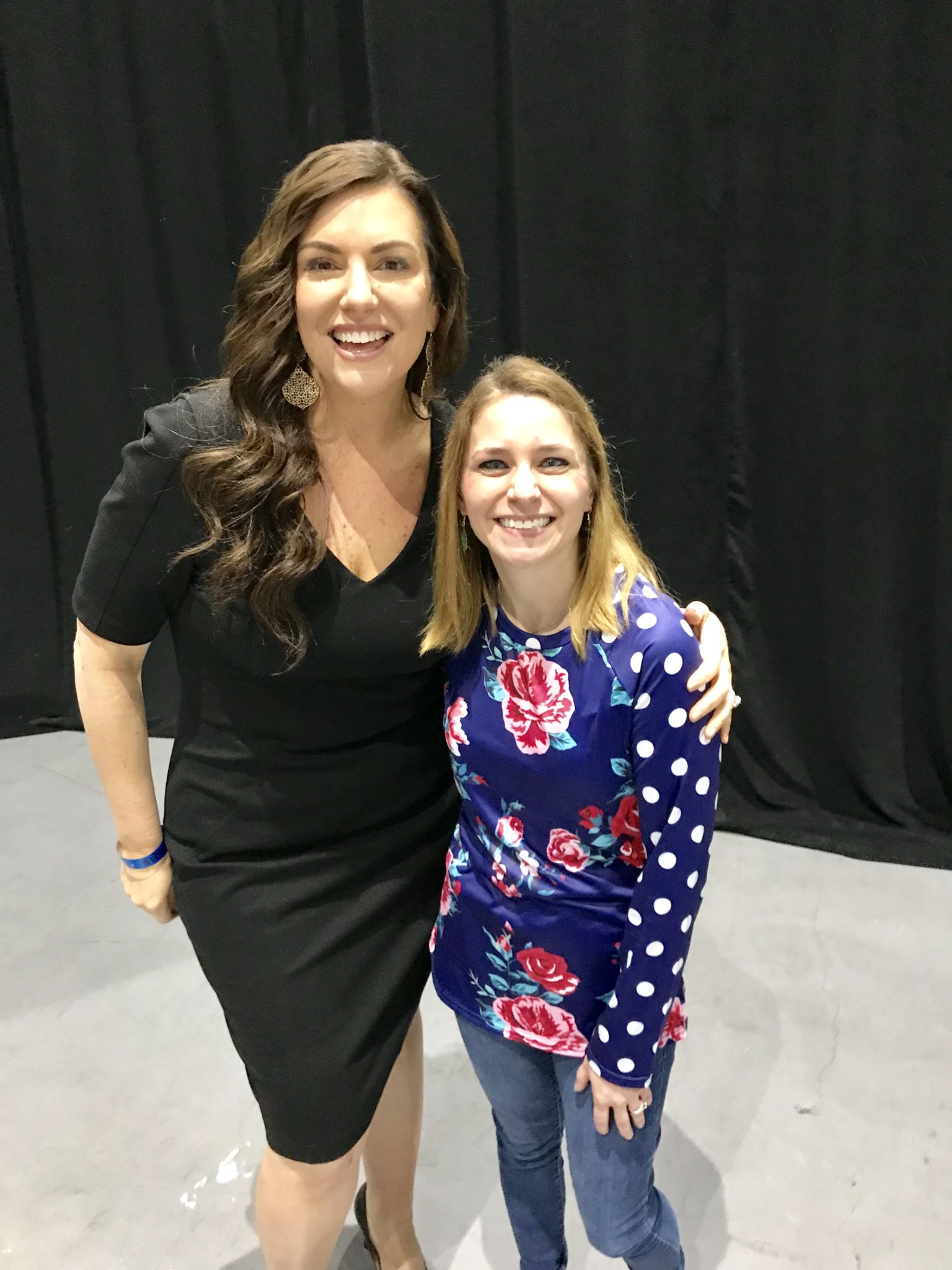 Here's how:
Make a plan weeks in advance.
I knew that Jasmine Star and Amy Porterfield were both speaking at this conference. And I knew I wanted to meet them, but that I'd probably be a complete moron when it came time to say hi. So weeks before the conference, I decided that I'd be meeting them, and that I had to stick to that, no matter what. I started thinking of things I could say so that when it came time for me to get on up there, I wouldn't walk away instead. And guess what: I met them both, formed actual words, and Amy even called me out by name in her presentation (in a good way!) after I'd confessed beforehand that I don't "go live" on IG/FB because I don't feel like I have anything worthwhile to say.
Embrace discomfort.
Sitting at a table with people I don't know, sharing what I do, and asking questions is just not my thing, and it makes me nervous and uncomfortable. Approaching the speakers was also super scary, and if you think my legs and hands weren't shaking during that, you'd be wrong. But instead of letting my nerves stop me from connecting with people, I acknowledged that I would definitely be uncomfortable. And I pressed on anyway.
Take a break.
What people don't often understand about introverts is that many of us LIKE people and LIKE talking, it's just that it takes soooo much out of us, and we need to be able to recharge from social interactions. With that in mind, I allowed myself to take a break from being "on." I reminded myself that it was okay to relax by checking Instagram. I made sure I didn't feel like I had to ALWAYS be ready to talk and looking approachable. Sometimes, I sat down 10 minutes before a session started, and never looked up. By allowing myself breaks, I was better able to interact with others, learn during sessions, and not totally burn out.
Go with someone else, if possible.
I know it's often not possible, but if it is, do it!! Having Brandon there gave me an extra boost of confidence, and I think that even worked both ways! Brandon has no trouble talking to people, but I am fairly sure that seeing me push past my fear made him want to approach speakers and get out of his comfort zone too (even though he wasn't out of his zone as much as I was!). I mean, we were telling a speaker about our podcast even though it's less than 20 episodes in!! That's the power of having a partner in crime right next to you. The cool thing is that even though we were both at the conference, we usually did not go to the same sessions (there were a few we did both want to attend). Which means we were able to experience it as individuals and grow and learn by ourselves as well.
Have fun.
Sounds kinda obvious, huh? But as an introvert, attending a conference can seem like all work, no play. And while I wanted to learn as much as possible, I always wanted to ENJOY the experience. So I had to decide to have fun. I high fived the high five guy every time instead of walking on by. I whooped and laughed and responded during sessions. I participated in this conference. This type of thing doesn't come naturally to someone who is shy and reserved, but I did it anyway. I ate lunch with Brandon there where we interacted with others, rather than heading out to a restaurant. I had a couple days to soak all of this in…all these like-minded people right there in the same room as me…so I did.
Before I go, I wanted to just share for a second on the specific conference I attended. If you're a marketer, if you have a blog, if you have anything to do with social media marketing…this conference was the jam. Social Media Marketing World allowed me to soak up knowledge that I'd have to spend months Googling…in just 2 days.  The environment is fun and positive and everyone is excited to be there, either as attendee, employee/volunteer, or speaker. No one was "too good" to chat, and it was a wonderful first conference for me.
I can't wait to attend this conference again in the future, and it makes me excited for any other conference opportunities that may come my way!
Have you ever gone to a conference? What did you think? What's the best one you've ever gone to? If you haven't ever gone, what's one you'd love to attend?