Okay, so, last Christmas I noticed that everyone on our local moms Facebook group was talking about going to the Holiday Express. I looked it up and found out that it is a big deal and that tickets go on sale in July and sell out super quick. So, realizing we wouldn't be going in 2017, I set my phone reminder to remind me to look up 2018 ticket sales in the summer. I found the date and time the tickets would go on sale and then set another reminder to buy them. I woke up at 5 AM on July 31, 2018 to buy tickets for a December event. Ridiculous, I know. But it sold out in under an hour I think, and guys…we had the BEST time this past weekend!!
I was a little unsure of what to expect. See, some of the "Moms" (as I call the FB group) had some less than stellar reviews of the event. But those moms were SO. WRONG.  It's an event geared toward younger kids, so this was perfect for us this year. Harlyn was living her best life. She said to me at one point, "Mom, I did not know this was going to be so much fun! This is amazing!!" And I was like…I am so getting up at 5 AM again in July 2019.
The event ran from 4-9 PM and we got there about 10 minutes to 4 and left around 7:30. We had a 4:30 train time, so we got in, checked in for the virtual wait line for Santa, and headed over to the train. The train itself is a little cute train and they put Christmas lights on it for Holiday Express. Any other time of the year, you can go to Pullen Park and ride the same train…but Christmas time makes it more magical. Harlyn and Maverick loved it! You go one time around the park and look at all the light displays they put up, and the whole ride was pretty much Harlyn yelling at us excitedly to "LOOK!"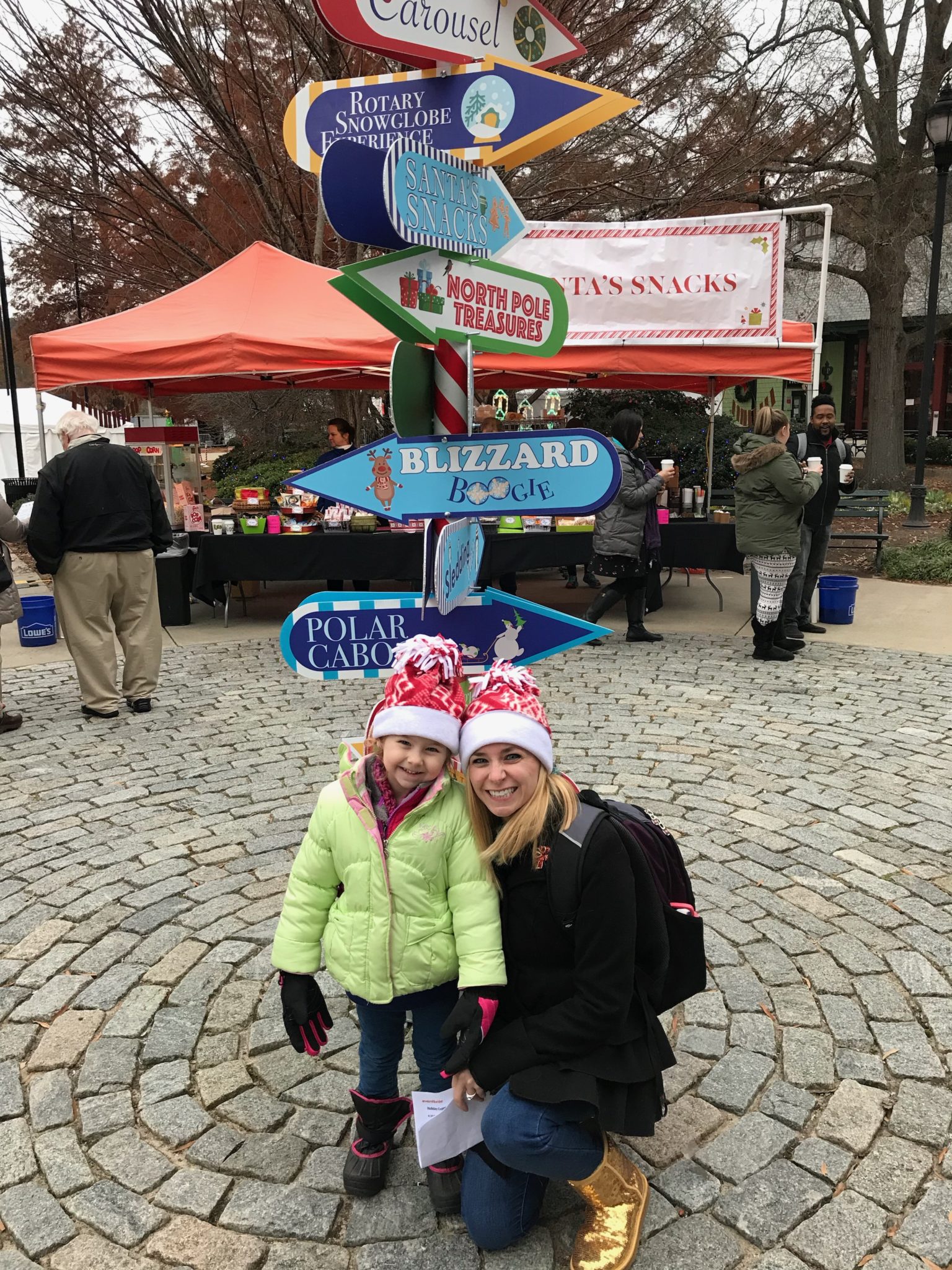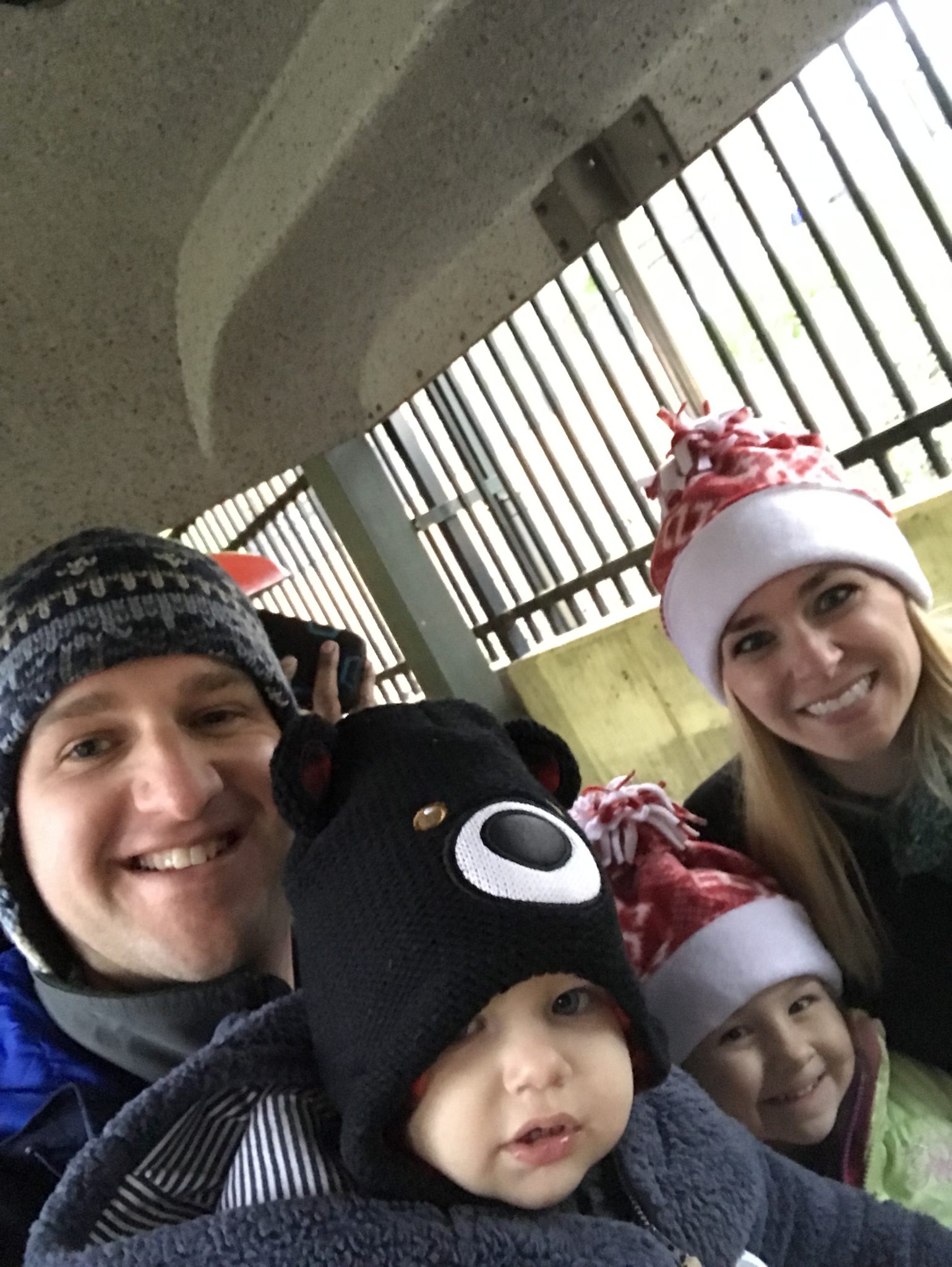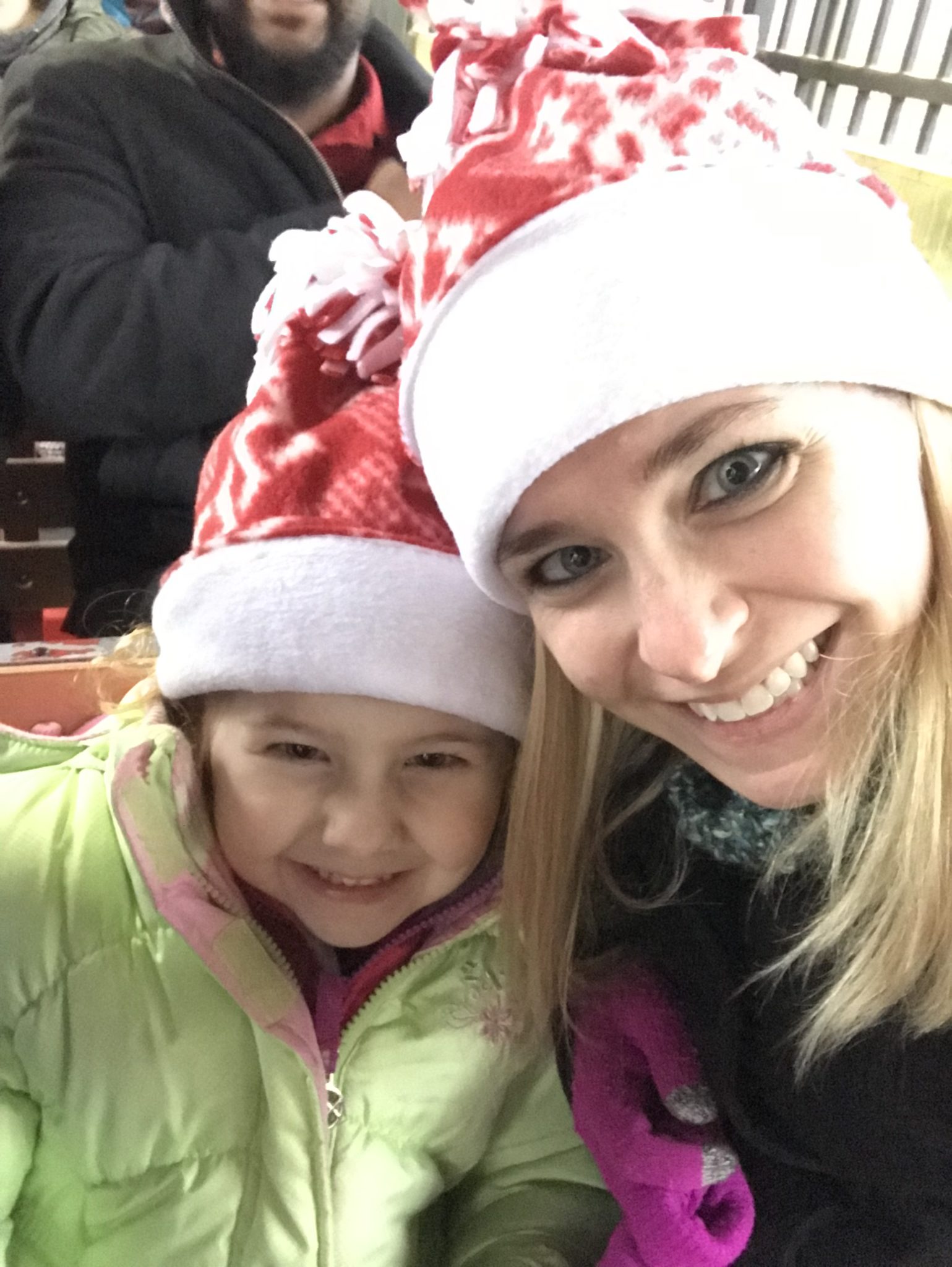 Anyway, right before the train ride we got a text notification that Santa was waiting for us and we had 30 minutes to check in. When we got off the train we headed right over! We had to wait for a little bit in that line, but it wasn't bad and moved quickly. Santa and Mrs. Claus were in a heated tent with a cute little set up, and you just used your cell phone for pictures.
Brandon and I were wondering what Harlyn would do when it was her moment…and she totally rocked it! For the first time since she was a BABY, she sat on Santa's lap!! Isn't she the CUTEST!?!? She asked Santa for a Barbie truck for her and Scout (the LeapFrog dog) for Maverick. Maverick was having NO part of this whole Santa thing and started freaking out when we tried to take him out of the carrier. So, we aborted the mission and let him stay with Daddy instead. Side Note: This kid is addicted to the carrier. He is not a fan of strollers, and if we try to put him in a cart he can turn around and stand up even when strapped in. B may still be carrying him around when he's 15. Ha!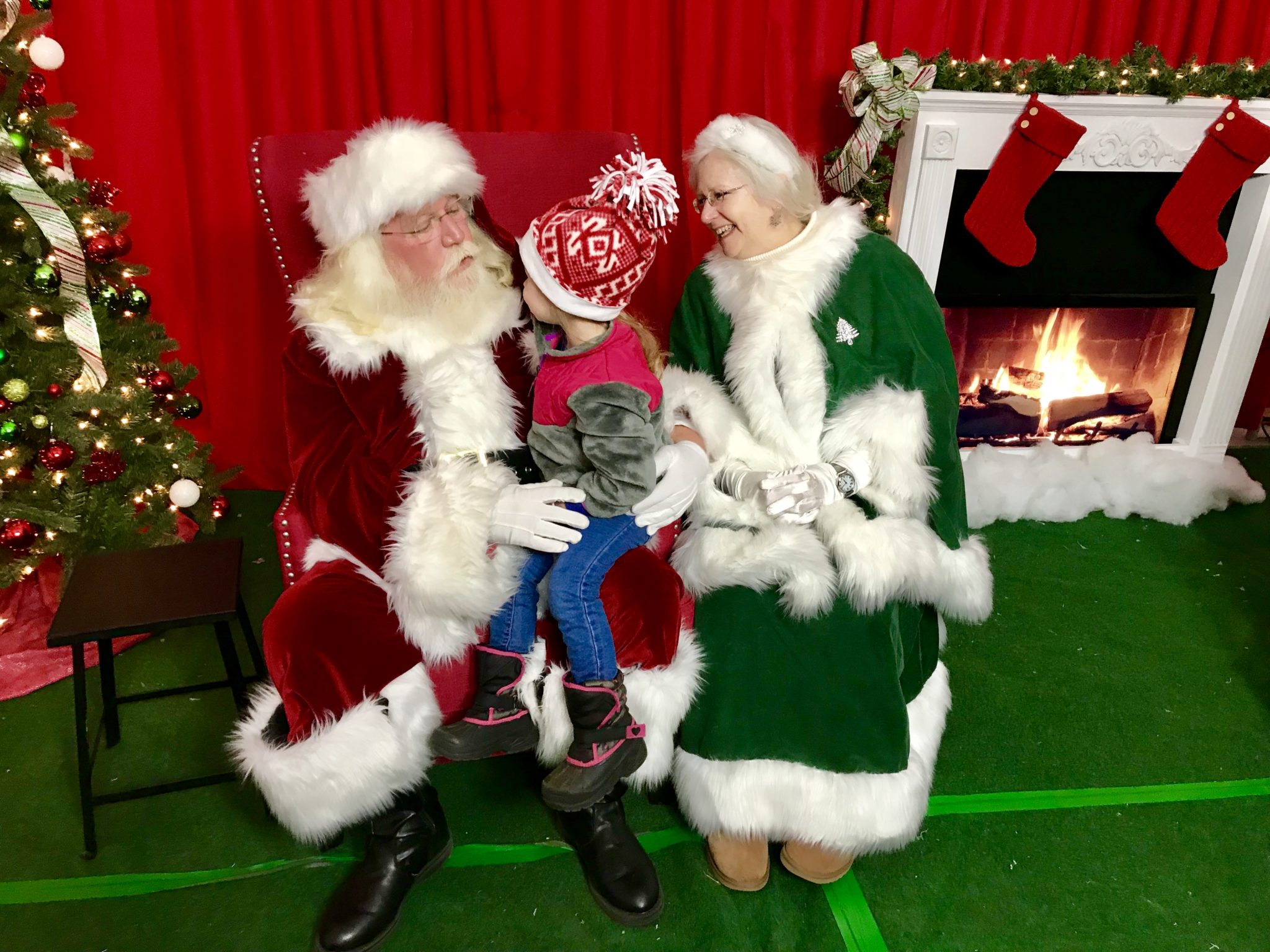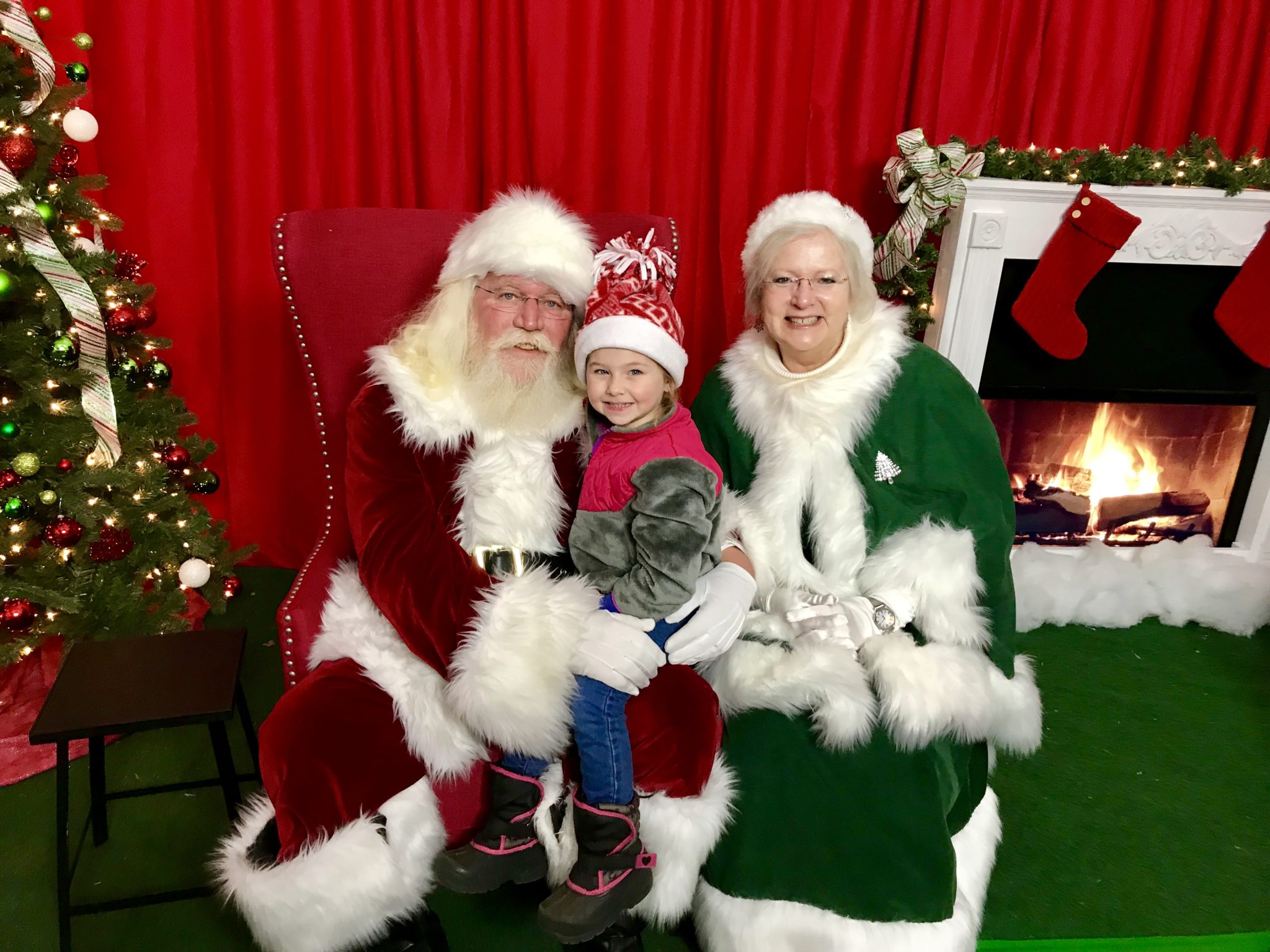 After seeing Santa, Harlyn wanted to go in the giant snow globe. It was probably are longest wait, but even that line wasn't too bad. Harlyn and I played on the playground while B and Mav waited in line. Harlyn just thought the snow globe was the greatest thing ever, and says this was the best part of the whole night!! Mav enjoyed the fake snow from the comfort of the baby carrier. And just like for Santa, they had someone there to take pics/video for you while everyone piled in the snow globe. Isn't this so cute??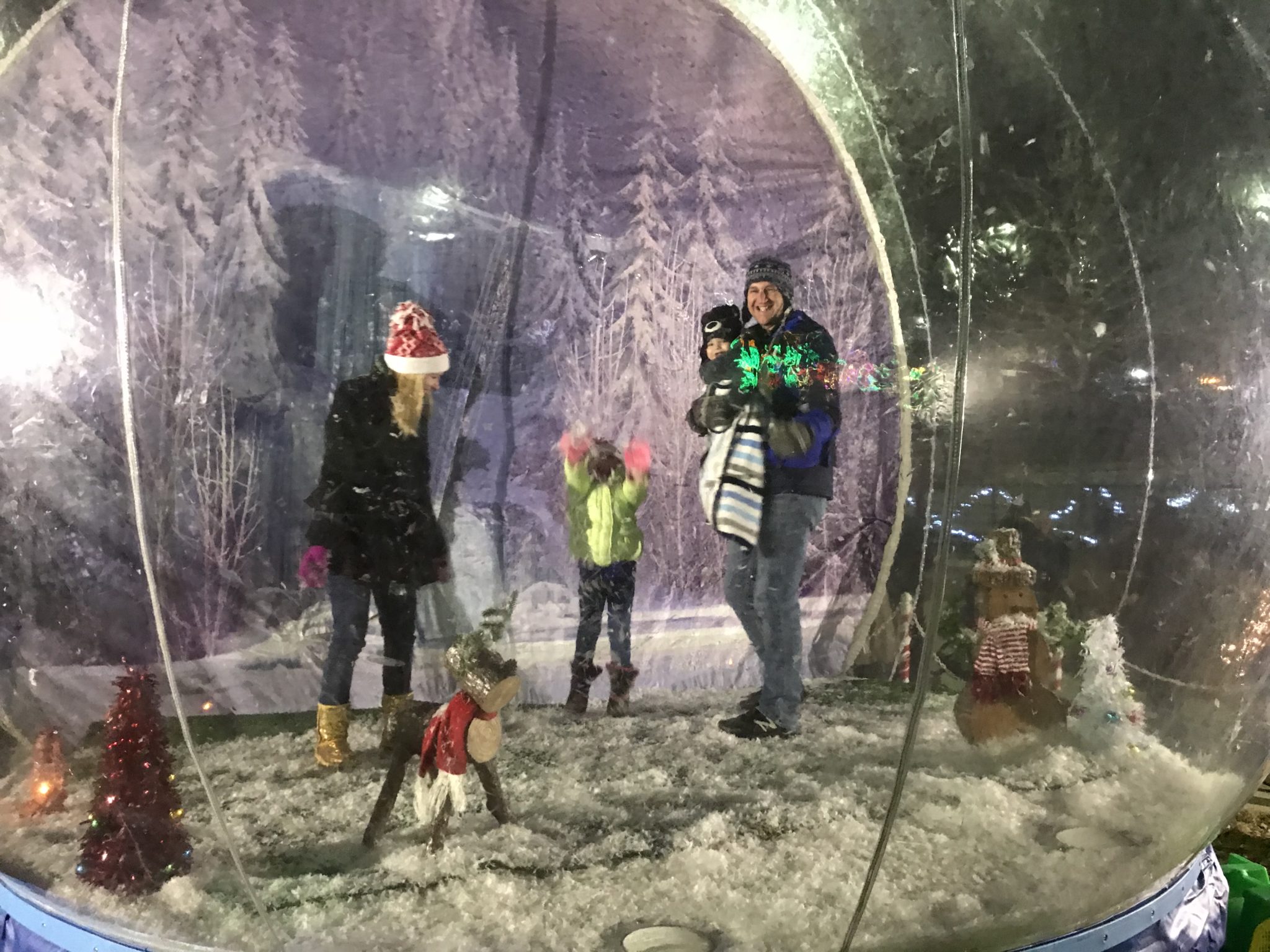 By this point, we'd done the most important stuff, but there was still more to do! We went into the caboose and got our picture taken. They gave you a picture frame ornament to make at home and we were supposed to go back and grab our printed pic, but we totally forgot. Harlyn remembered the next morning and was not pleased with us.
Then we went to the carousel. Both kids liked this too! Short line and it's inside, sooo….yay!!! Then we decided to walk around to see the lights, got s'mores from the fire department tent, Harlyn made reindeer food, and by that point we were pretty ready to go. But Harlyn found the ornament tent and had to make one! She decided on the reindeer.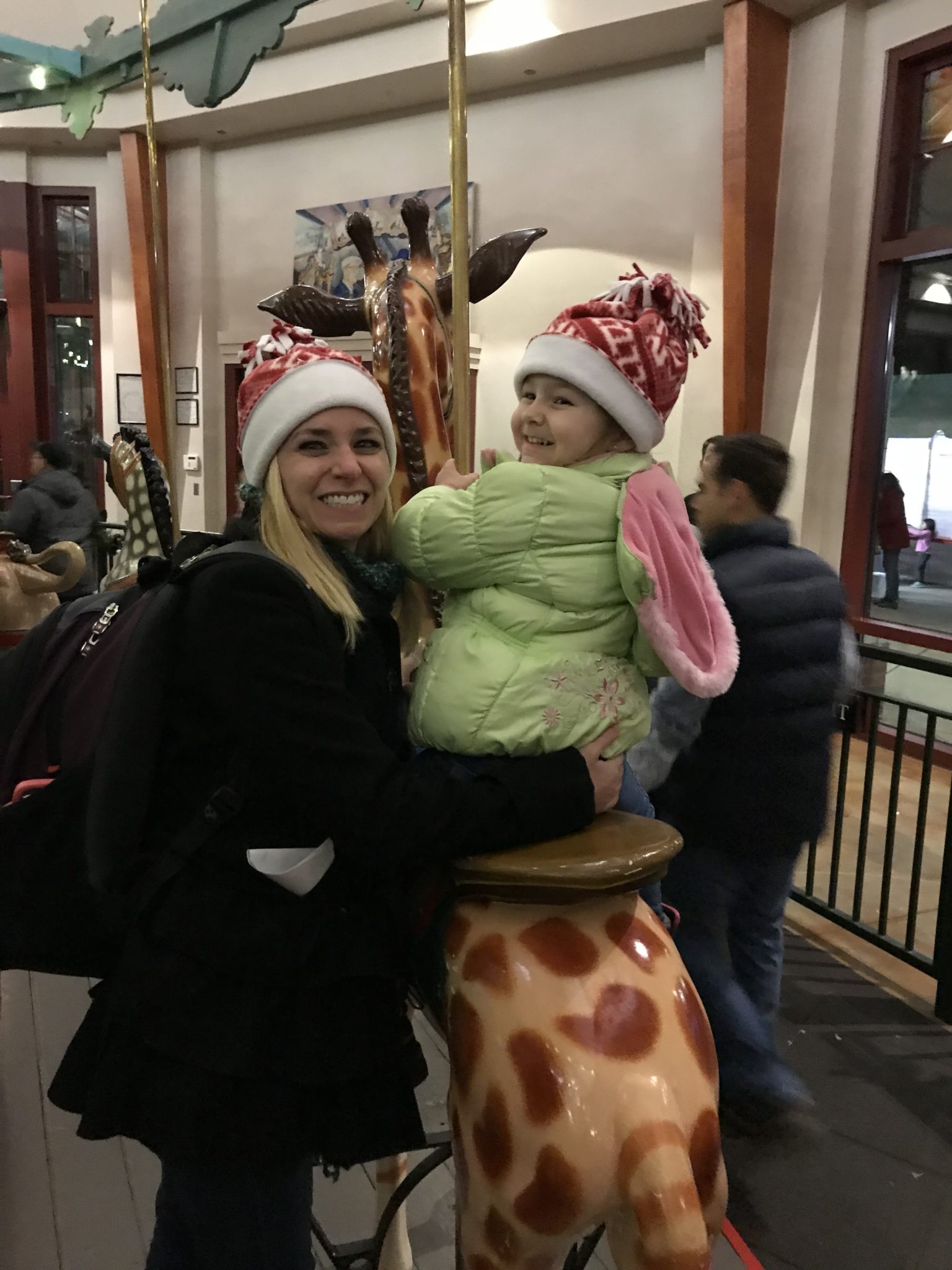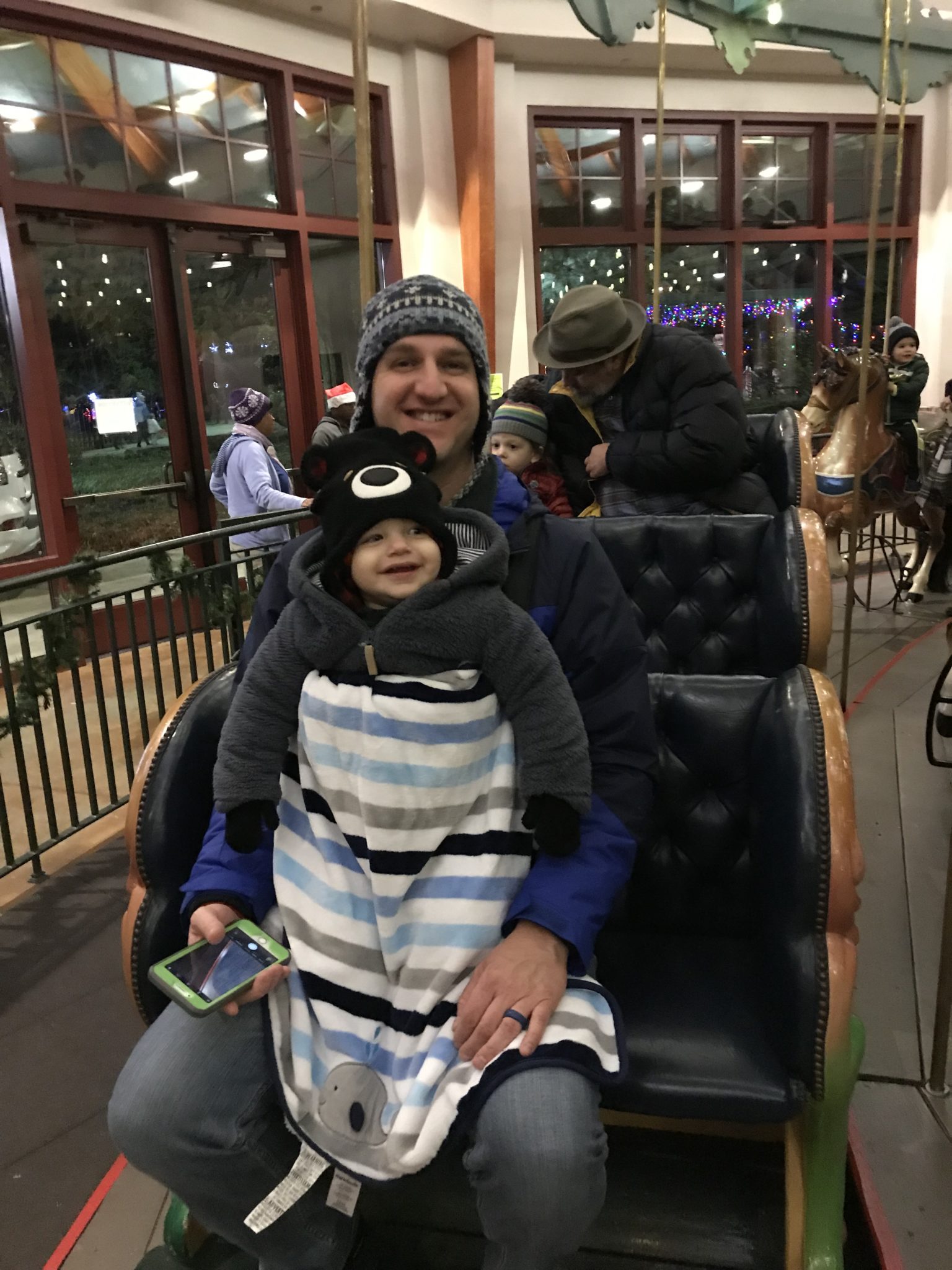 After finishing her masterpiece, they were doing glow sticks and a fake snowball fight on the lawn. They had plush snowballs with faces to throw around. Harlyn just ran around collecting them all, and we had to keep reminding her to actually throw them at us!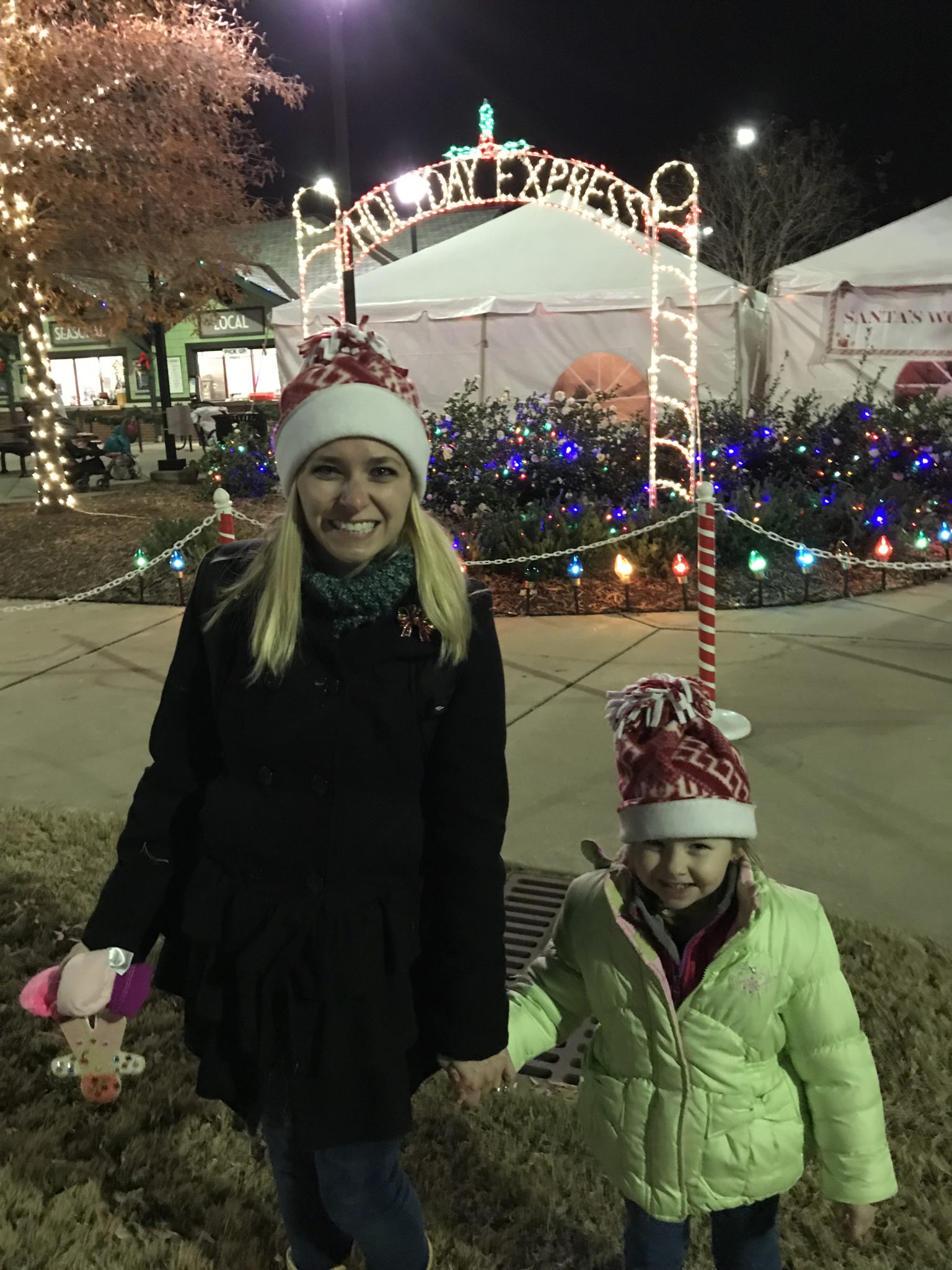 Throughout the night, Maverick was a TOTAL trooper. Even though it was late for him (he's in bed normally between 6:15 and 6:30 PM), he was perfectly content during the whole thing. He must have been a bit cold, but he didn't cry or fuss (other than when we were about to pass him to Santa!).
It was a really enjoyable night for our whole family. We went home happy, cold, and tired. We grabbed some Burger King on the way home…then it was time for jammies and BED for our babies!
So there you go! If you are local, and you have young kids, I really do think the Holiday Express should be on your to-do list for Christmas 2019!!
Does your area have anything like this? What fun and festive events and activities does your family love this time of year??