This past weekend, I had some quality "me time" with my best friend. It. Was. Glorious.
Rachel asked me a month or two ago if I wanted to meet halfway and do a spa day, and because I am not insane, I said YES, PLEASE!!! Rach and I have been friends for 19 years, but sadly, she lives in South Carolina…so while it's not tragic (about 3.5 hours), it's not exactly easy to see each other, either. Not when I'm a mom of 2, she's a mom of 3, and there's dogs and homes and everything else to take care of. We're both so grateful for our husbands, who held down the forts so we could do this amazing girls' weekend.
We met at the Grandover Resort and Spa in Greensboro on Saturday morning. We had 9 am massages, so I was out of the house about 7:15 AM. We got checked in to the spa and each spent 50 minutes in Swedish massage bliss. After that, we changed into our bathing suits and headed to the indoor pool for a day of…NOTHING. Seriously. We spent the day rotating between the hot tub and our lounge chairs, switching between chatting about everything and then reading our books and enjoying the fact that no kids could interrupt us.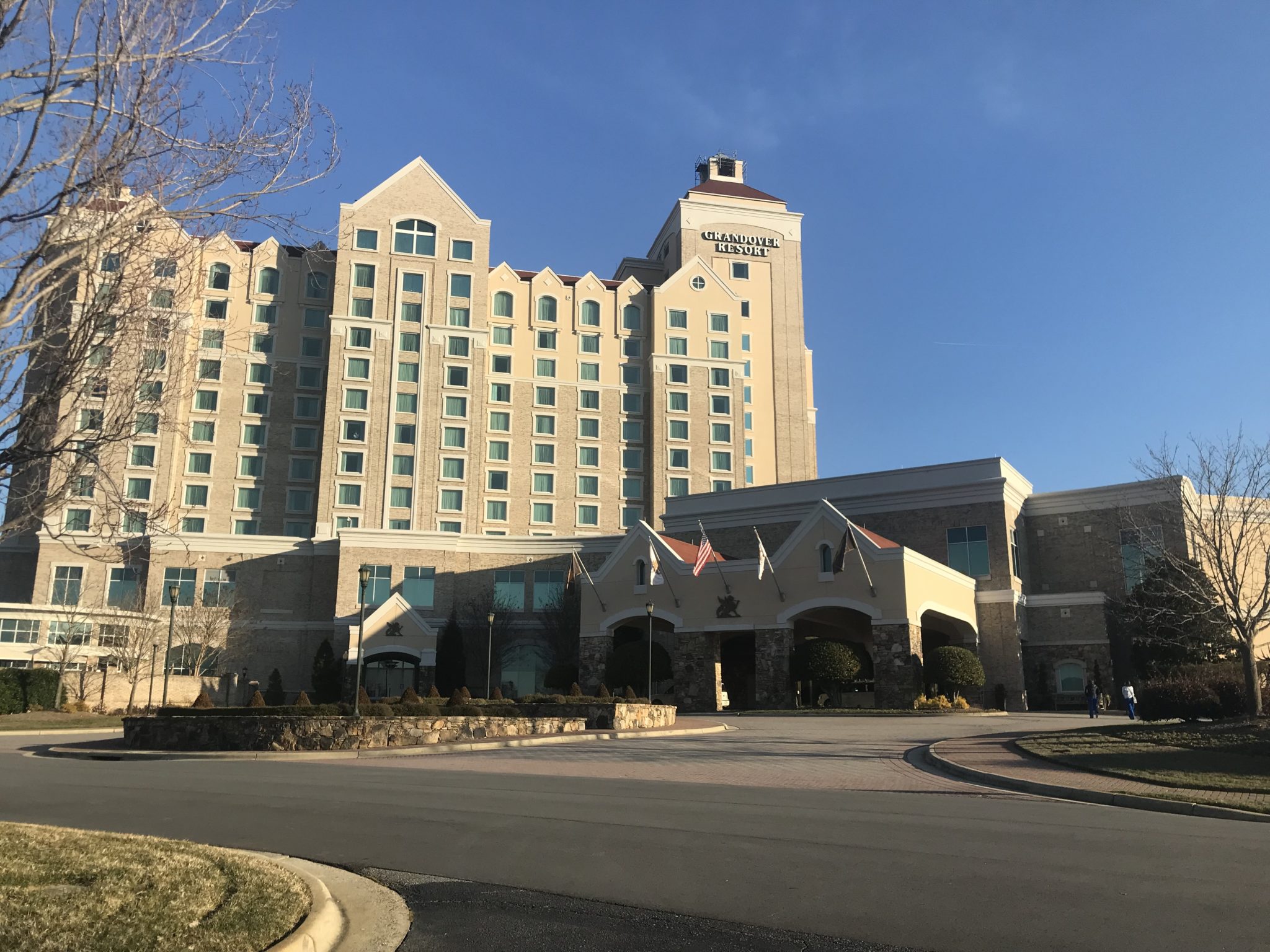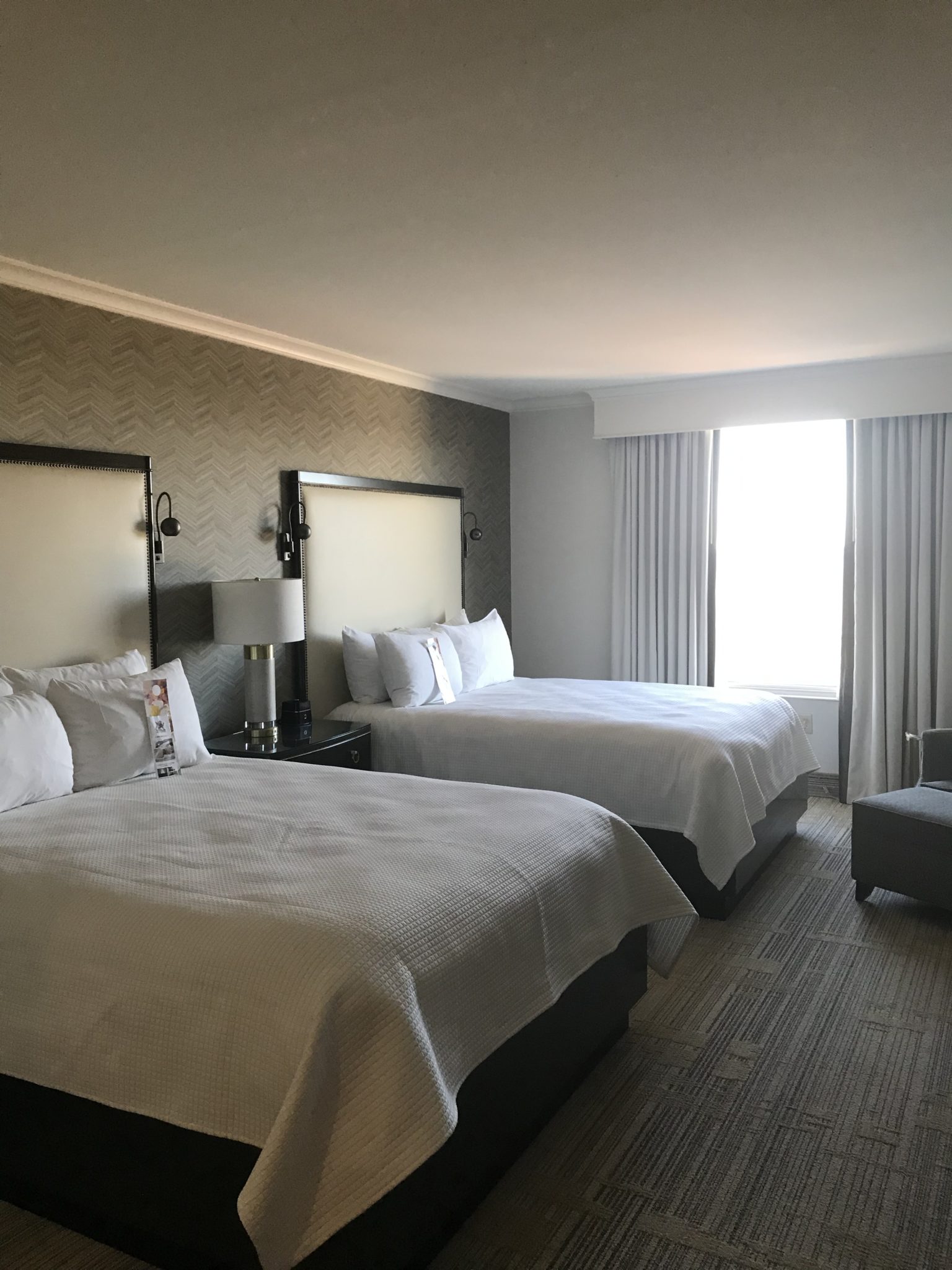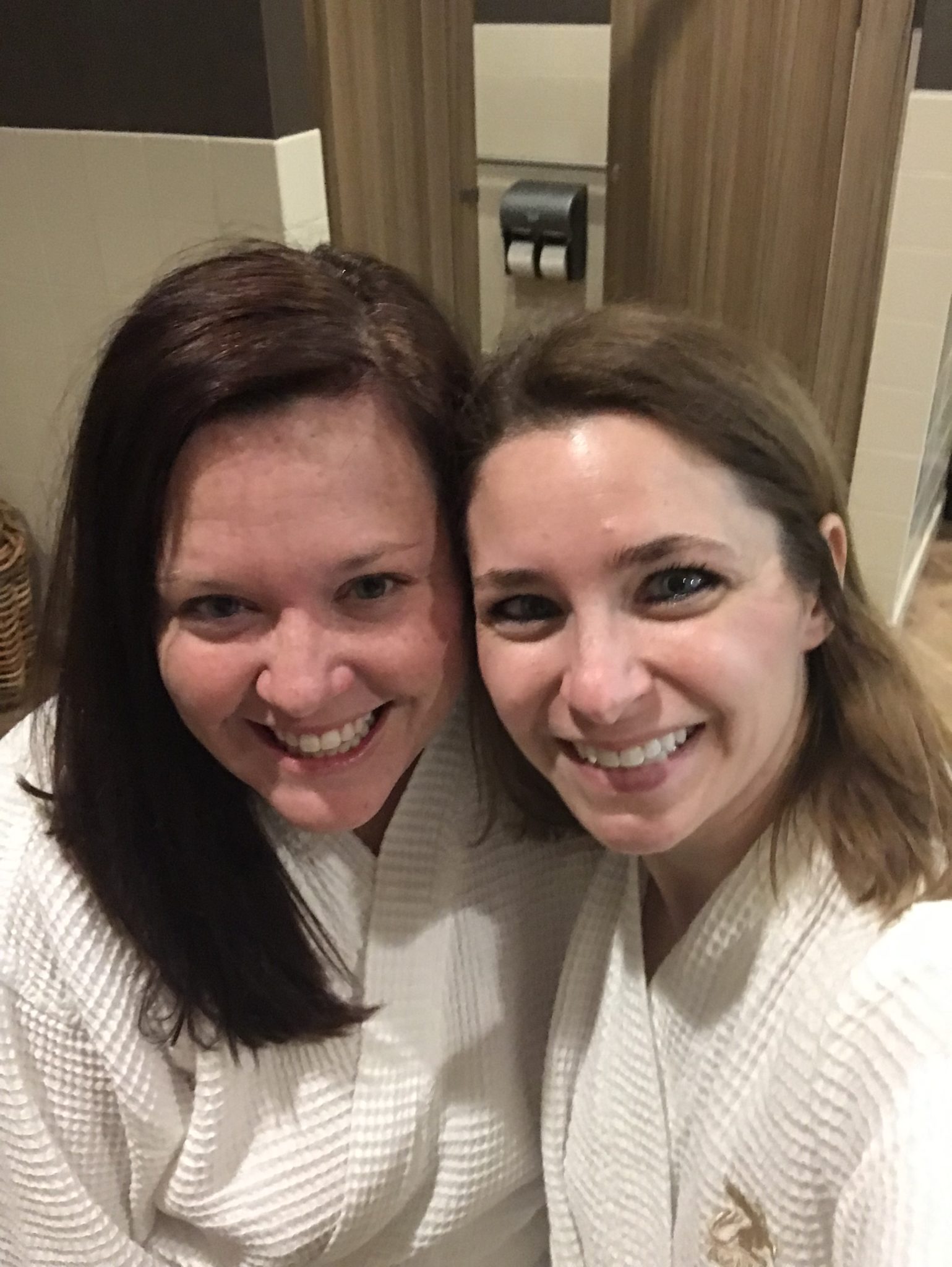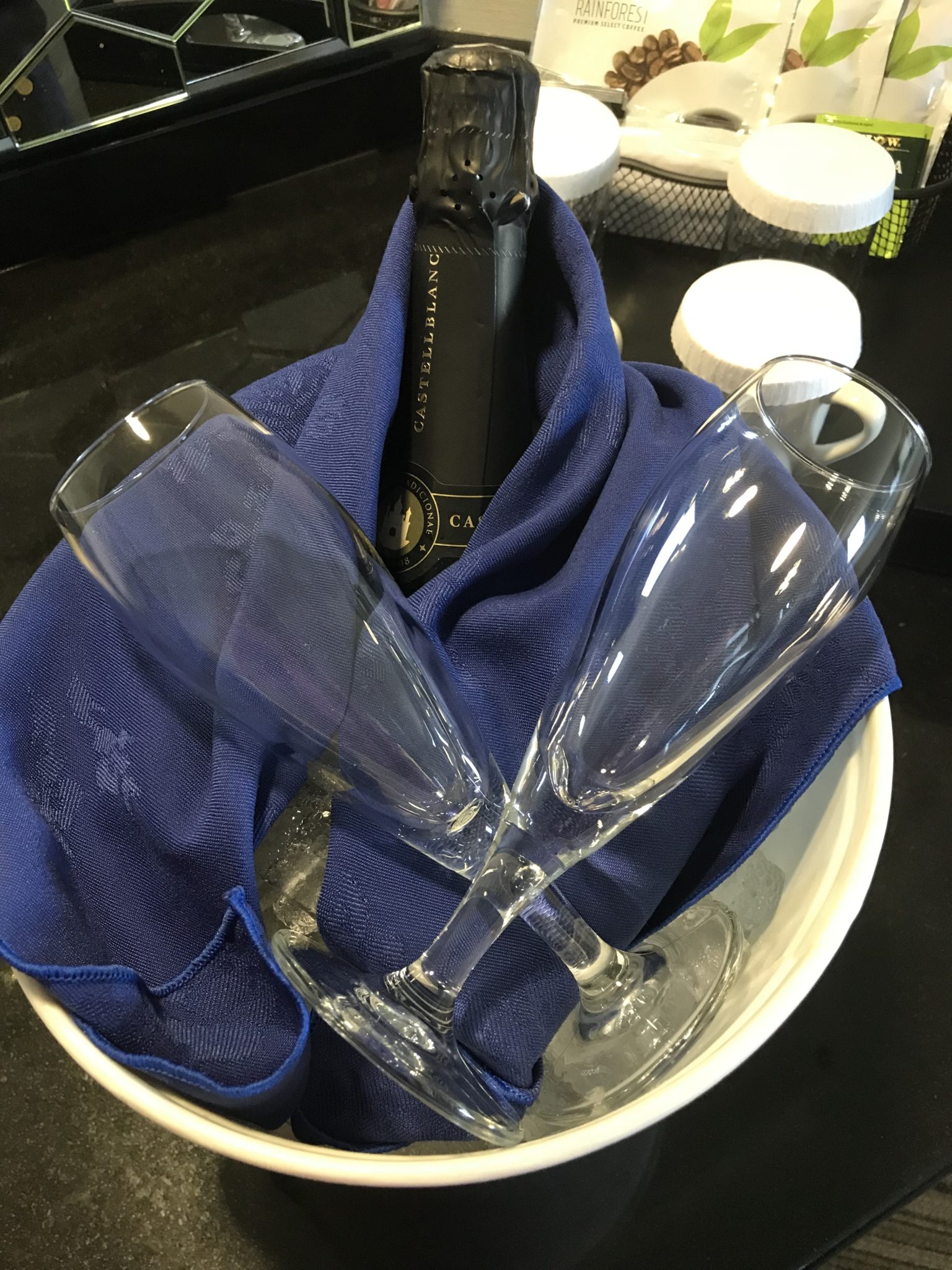 We ordered lunch and ate at the pool, stayed a couple more hours, and a little before 4, we left the pool and officially said goodbye to the spa so we could get checked in to our hotel room. We had huge plans for the evening—Target and dinner!! We wandered around Target and for once, looked at whatever we wanted with no rushing and no whining kids.
Sigh.
After Target it was time to eat, and lucky for us, a Mexican restaurant was right outside of Target! Cheese dip, enchiladas, a margarita and no sharing my food made for a lovely dining experience.
We got back to the hotel about 7:30 and decided that we'd be old and lame and put jammies on. I mean, we could have gone down to the lobby or figured something else out to do, but it seemed like a lot of work for two mamas just trying to get some R&R. So pajamas, face masks, and HGTV it was!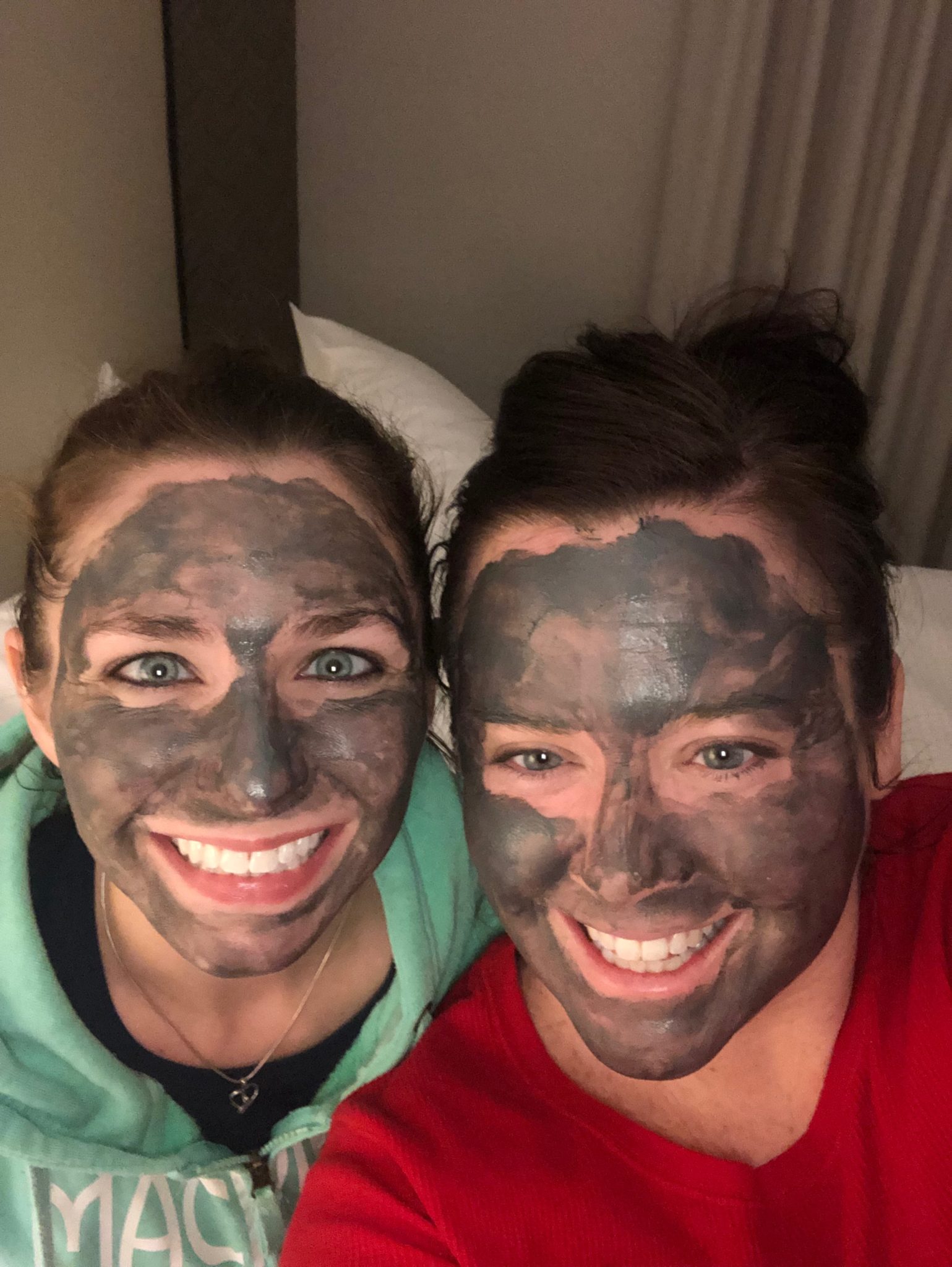 And then…it was 8 AM. That's right. For one morning only…I did not get up at 5 AM. I woke up at 7:22, realized Rach was still sleeping, and cuddled back in until EIGHT IN THE MORNING. #happymommy
We got up, got ready, and had made to order omelets in the hotel restaurant before checking out and heading home to our anxious families.
It was a short but sweet visit, and here's my takeaways:
Even though moms know they need to relax, it's almost impossible at home. Rach and I had a whole conversation about this–how at home, we constantly feel guilty any time we aren't cleaning and organizing. Reading, TV, or anything else enjoyable just seems wrong in a house full of chores. Even when we've both DONE the chores, we agreed that it's still hard to sit down…because there is always something we could be doing. Occasionally taking a nap, picking up a book or a magazine, or spending 20 minutes scrolling through FB and IG is actually good for us mommies because we NEED relaxation.

We need friends. I mean, obviously. But it felt so great to actually have time for once to talk about more than just the kids being sick or a crazy work day and talk about LIFE. Rach and I text constantly and call when we are able, but nothing beats being able to chat in person without kids needing 1,457 things while we try! Even if you can't go do a spa day, meet up for Starbucks or a quick lunch with a girlfriend every so often.

We are excited to be away, and also ready to be home, all at once. Yes, I looked forward to this time away for weeks! I was so ready to put mom and wife duties on hold and just chill for a day. But when I left the house, I felt a little sad for some reason. And even though I crave

just one night

where I don't put Harlyn to bed, it was so great to be home the next night, putting her to bed again. I guess moms are complicated like that.
I meant to take more pictures, but when you spend a whole day doing nothing, it turns out there aren't a whole lot of photo ops. 😊 Just know that my lack of pictures really just means I was taking in the moments, enjoying 24 hours of friendship, relaxation, fun and recharging. And I think we may need to consider making this a yearly thing, because it was pretty darn perfect.
What's your idea of the perfect day off with a friend? When's the last time you were able to sneak away for a little while? What'd you go do??