If you don't follow me on Instagram, (@thisaveragemom) then you don't already know that this past Saturday, I ran my first Crim!!
To be fair, I have run Crim events in the past, but only ever made it to an 8K (5 miles). So, this year, I DID IT…I ran the actual 10 mile Crim.
If you missed my post on deciding to run the Crim, you can find it HERE, and if you missed my update/helpful hints for you post, you can click HERE.
Okay, so now that you're all caught up, here we go!
The week before the race, I did a practice run. It did not go well. I cried at the end, and have the proof to go with it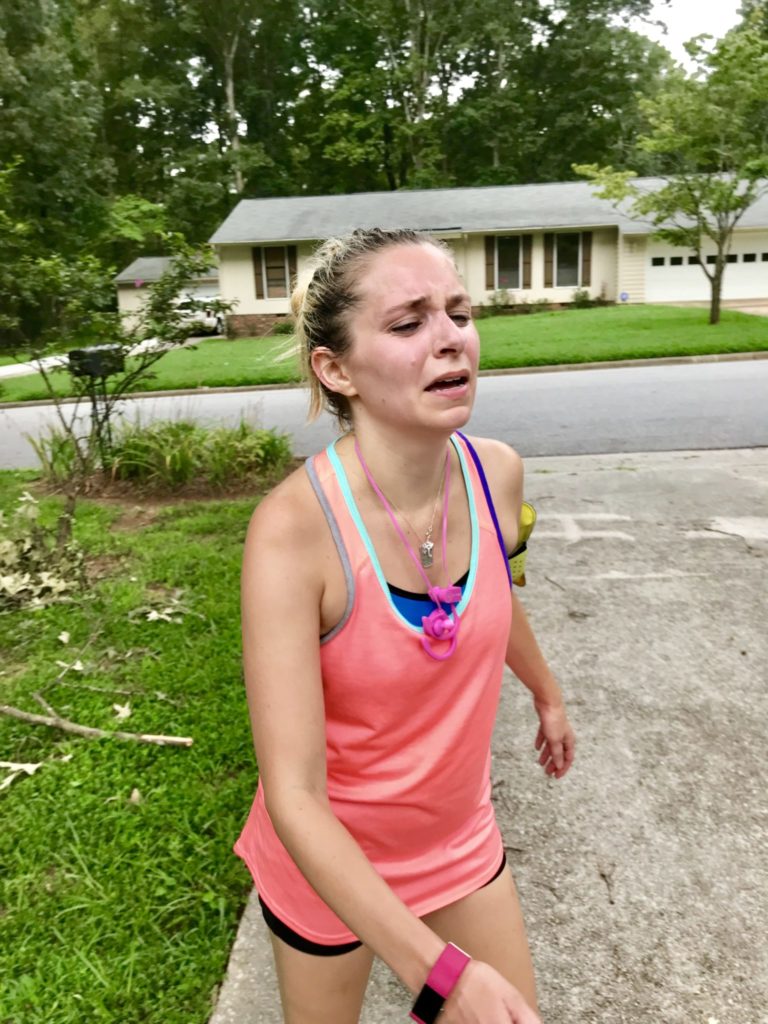 You can imagine my anxiety after that trial run. I was super nervous about the race. So much so that Friday night, I couldn't sleep. But Saturday morning, at 6:30 AM, we all piled into the cars and headed to Flint. The race was to start at 8 AM, but the forecast had called for rain/thunderstorms starting around 8 or 8:30, and it was very ominous-looking out there. At 7:56 AM as we stood in our corrals, it started raining. And by 8 AM, it was pouring. And thundering and lightning. Of course, they can't let you run in lightning, and so, we started what would become an hour and a half miserable delay. We were soaked, anxious, annoyed, cold, and OVER. IT.
Eventually, I headed to the bathroom and waited in a huge long line. As I got near the front of the line, they announced that the race would resume.In like, a few minutes. WHY OH WHY DID THEY GIVE SUCH SHORT NOTICE!?!?! So I went to the bathroom, ran out to find my sister, her boyfriend, and her friend, and we had to find my mom who had my earphones and arm band. Grabbed all my stuff and made a beeline for the starting line.
It was still raining as we started the race. My feet had been wet for a loooong time. Thankfully, around a mile in, it stopped raining!!!
I'm not sure whether it was the cooler Michigan weather, the race day adrenaline, or just having people to run with (a combo of all 3??), but the miles just kept passing by and I kept being okay. Since I started the race with Liv and Jason, I told them to just go ahead and leave me behind when they needed to. At mile 7, I looked up and saw my SIL, BIL and SILs friend. So we ran to them to say "hey." For that mile, we all stayed together. Then at mile 8, Liv and Jason took off, and I knew I couldn't up my pace, so I stayed with the other 3. And I hung with Melis, Jeff, and Tina the rest of the way!!!
It was totally unexpected. I had set myself up to run at about 11:30-12:00 min/mile pace. AND INSTEAD, MY PACE WAS 10:37/mile. I thought I'd finish in about 2 hours, and I finished in 1:46:01.  Where I usually really struggle after mile 6, I totally did not on Saturday. I mean, it was hard, of course, but I never felt like I might die or that I just couldn't do it.
By the time the race was done, the sun was shining and the temp was rising. It actually ended up being a pretty nice afternoon! We finished the run, recovered with water, granola bars, and popsicles. Jeff and Melis bought me a beautiful bracelet in honor of my first big run, and I ADORE IT!!
After Jeff, Melis and Tina left, the rest of us grabbed our pizza and pop and sat on the ground to eat and relax. Soon it was time to go back to my mom's for some real recovery and tasty food!!!
My whole body hurt the rest of Saturday, and all of Sunday, but I'm feeling pretty good right now.  Even though I was not happy about the rain/thunder/that whole horrible start, the rest of the experience was great!!  I am so glad that I pushed myself these past three months or so to accomplish this goal.
I'm totally taking a few days off running this week though. I need to recover a bit—my hip has been acting up for about a week and I think a nice break will help a lot!!
So…I guess the question is: do I run a half marathon this fall?????