It's almost St. Patrick's Day!! Today I wanted to talk about how we do St. Patrick's Day at our house and how we get ready for it.
Psst! This post contains affiliate links. This means that, at no cost to you, I will earn a commission if you click through and make a purchase.
The Back Story (AKA Last Year)
But before we get started, I think it's only fair to tell you that we never planned to make St. Pat's a "thing" in this house. Prior to last year, we threw a green shirt on Harlyn and that was that. She had a little daycare celebration and that was the end of the story. But last year, she started preschool. And I 100% blame her preschool for the big to-do we must now have for St. Patrick's Day. Last year, Harlyn came home from school 2 days before St. Paddy's Day and told us all about how the leprechaun came to her school, and while they were at recess, he totally messed up their classroom. He made a big mess, he left green "pee" in the toilet, left gold coins, and it was this huge deal. And unbeknownst to us til 2 days before, Harlyn expected to have a visit from the leprechaun at home and she was going to find gold coins on St. Patrick's Day morning. And oh yeah, she needed to build a trap to attempt to catch him.
Whaaaaaaaaa??????
We were in full panic mode. The next day, Brandon went out to like, 4 stores looking for gold coins, or even the chocolate gold coins. But no one had them. Thankfully, my mother in law was smart enough to think of real coins and I am fairly certain she even brought over her loose change for us! That night, we helped Harlyn make her "trap" which was a diaper box by the front door that we doctored up with some string to fall right on top of him as he came in the house! After Harlyn went to bed on St. Patrick's Day Eve, we got to work. We put green food coloring in the toilet like she had seen at school, we did a toilet paper trail throughout the house, we cut a leprechaun-sized hole in the diaper box like he had escaped, and wrote Harlyn a note from the leprechaun to have better luck on the trap next year. I'm pretty sure we also left a small toy in the trap for her, but Brandon doesn't recall that, so who knows. We dumped all the loose change around the trap too.
St. Patrick's Day came and went, and although we had zero prep time, we did a decent job for our 3 year old. We had also made copycat Shamrock Shakes at home since it's more fun and cheaper than getting them from McD's (although we definitely did that once or twice around St. Pat's last year). We also secured three St. Patrick's Day books to dig out every year.
Current St. Patrick's Plans
So this year, we've been able to plan things out a little more. We know we've gotta grab some gold coins from the dollar store and buy a small gift for each kid. The books are out and we've been reading them (and checking out Amazon and Target for our next St. Pat's book purchase). Harlyn's been planning her traps. Yes, this year, she's decided to set a spider web type trap made of dental floss by the front door, and a box trap by the back door. She also wants to set a spider web trap at her door to ensure the leprechaun won't come in her room!  We also have the St. Patrick's Day shirts for both kids ready. I think we're set.
Shamrock Shakes!
And…the most fun thing we've done so far this year for our St. Patrick's Day prep/early celebration: making our fake Shamrock Shakes!! We found the recipe online and it really does taste like a Shamrock Shake!
I think there are tons of different websites with recipes that might all just be a little different, so HERE'S the one we used but you can always just use Google!
(Hint: for 4 of us, we doubled the recipe! The original is below.)
3 large scoops ice cream

¼ cup heavy cream

½ tsp peppermint extract

6 drops green food coloring
Blend it all up!
Add whipped cream, green sugar sprinkles and/or chocolate sauce to your poured shake. YUM!!!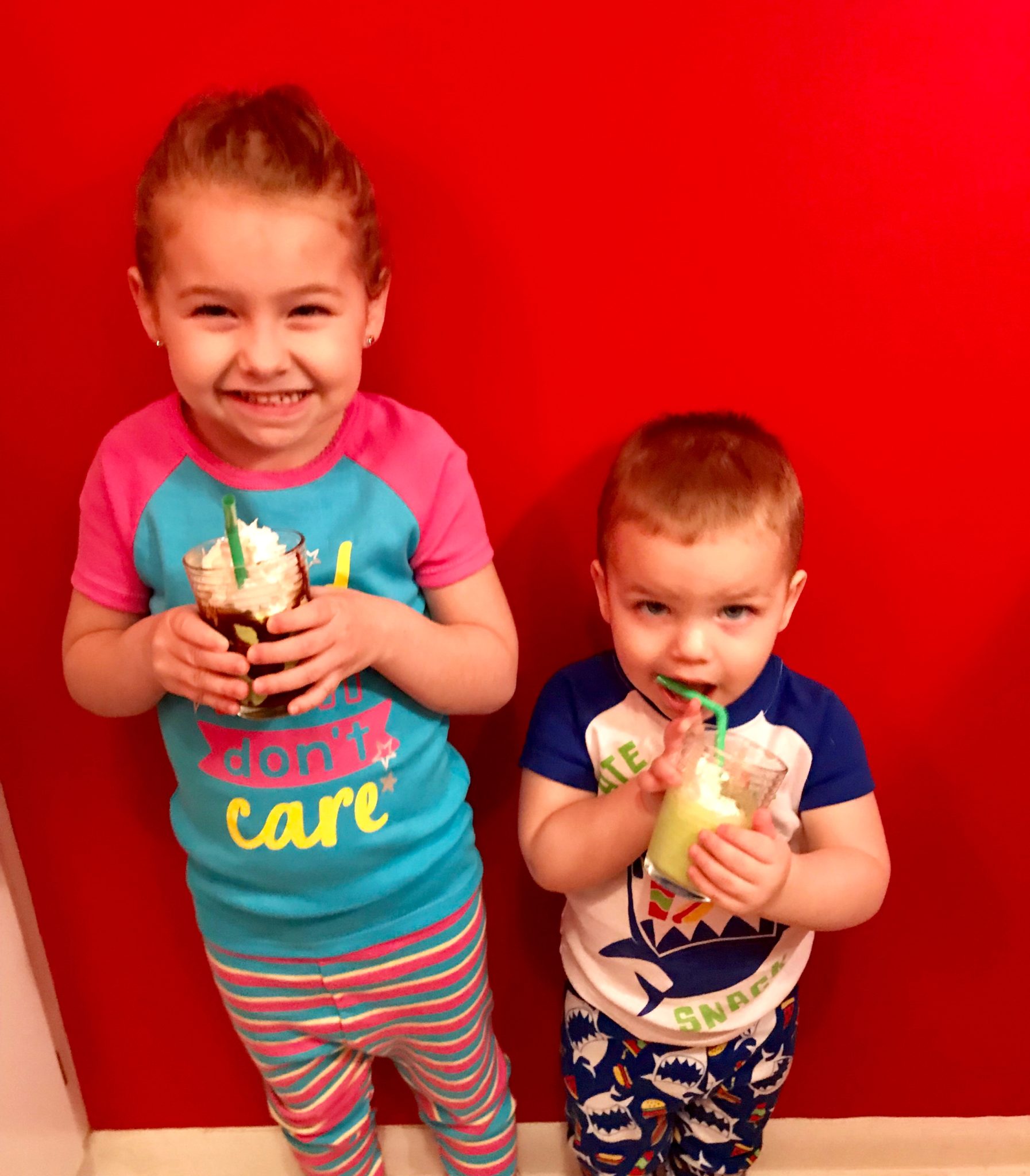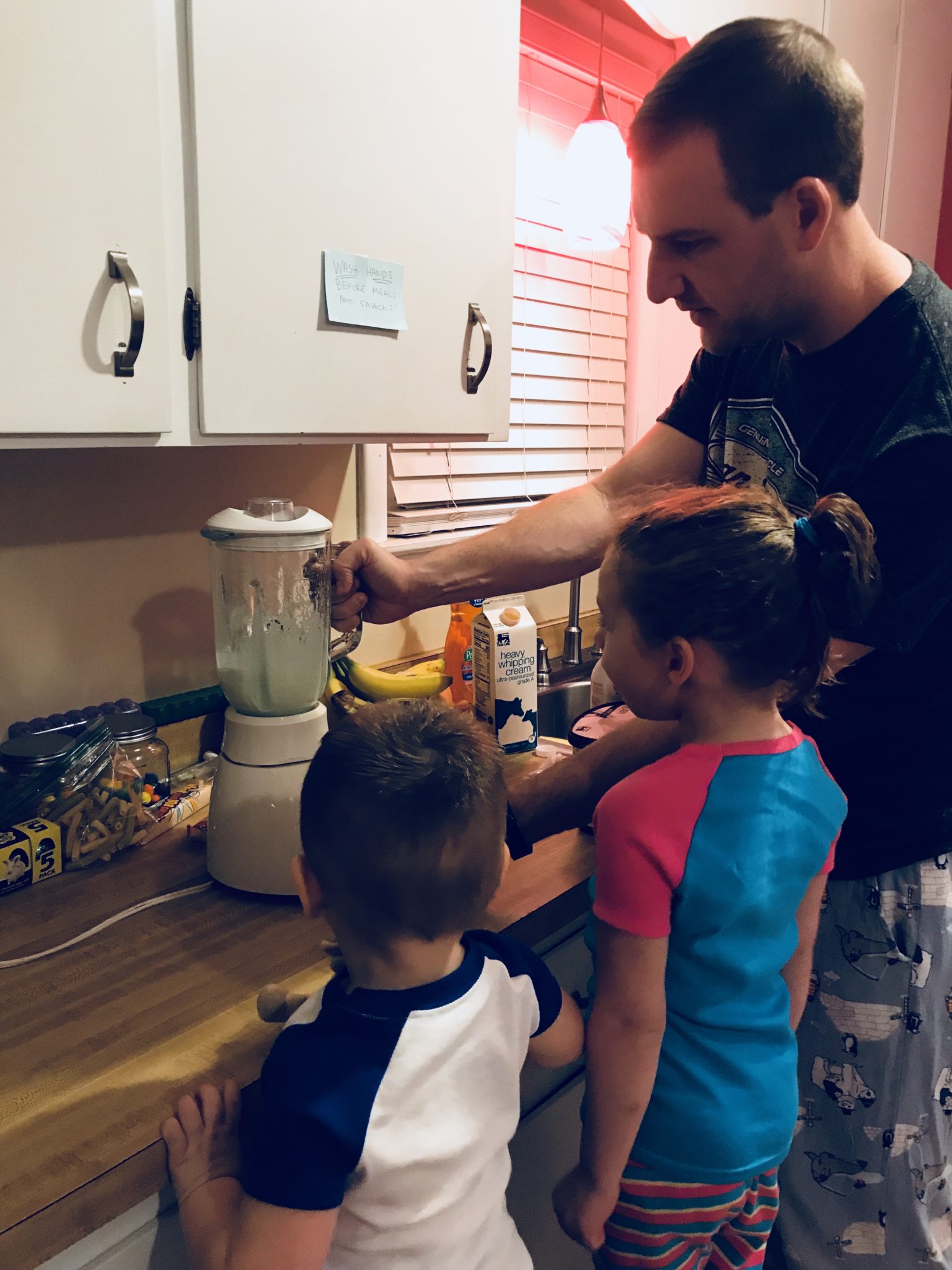 Clearly, our kids loved making them AND drinking them!!
Books and Goodies!
And if you need some St. Patrick's Day inspiration for your own celebration, here you go!
1.How to Catch a Leprechaun (my fave!)
2. The Night Before St. Patrick's Day
4. Pete the Cat The Great Leprechaun Chase
We don't have this one, but we do love Pete, so my guess is that it would be a hit in our house!
We have other books in this series but not the leprechaun one. A great pick for really young kids because it's to the tune of the Itsy Bitsy Spider
Never played this one, but I have an almost 5 year old who looooves games so I'm pretty sure this themed Bingo would be perfect for her!
7. Gold Coins
I couldn't find anything on Amazon that was as cheap as $1, and we saw them at the Dollar Tree, so…my vote is to head to your dollar store!
8. Shamrock jewelry
I couldn't pull up the stuff we've gotten from Walmart on their website for some reason, but Walmart always has the best cheap holiday jewelry! We get the necklaces, hair bows, head bands, light up stuff, face tattoos, earrings…whatever. And it doesn't matter if the kids lose or break it, because it's inexpensive.
That's a wrap on today's post all about St. Patrick's Day! Now tell me, what does St. Paddy's Day look like in your house??